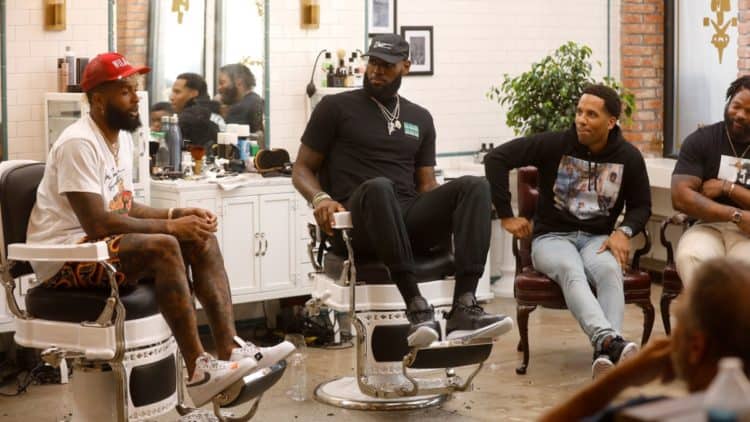 Everyone is trying to make a mark that might turn to be a legacy and for LeBron James "The Shop" is his way of doing so. The show was created to show how black barbershops are while at the same time allowing people to speak their mind. Besides that, there are few more things you probably did not know about the shop and below are some of them.
1. Its executive producers chose HBO to air it
LeBron James approached HBO Sports with his idea about creating a platform where artists and athletes could come together and share their points of view freely. HBO welcomed the concept and felt honored that the executive producers of "The Shop" had considered them to be the home for that conversation.
2. It is reminiscent of LeBron James' childhood
LeBron James said he created the show because he is aware of how real barbershops operate, having grown up going to one for a haircut. With the experience, he knew that the show would be so incredible especially for those who can relate with such barbershops.
3. "The Shop" is unscripted
While we watch shows in which actors have to memorize the script and rehearse to ensure we get the excellent end product on our screens, "The Shop" is unscripted. The cast members, therefore, say whatever pops up in their head which is maybe what James was going for, a real conversation.
4. It visits barbershops countrywide
Some shows are recorded in front of a live studio audience, but "The Shop" is not one of them. Instead, the series visits barbershops across the country gathering distinguished persons to be its guest on the show.
5. It only features big names in entertainment and sports
While everyone's opinion matters, "The shop" is only interested in the opinions of celebrities. Ironically, it may be perceived to bridge the gap between ordinary citizen and the celebrities by portraying the stars as just regular people who also have feelings and thoughts. It has so far featured guests such as Drake, Snoop Dogg, Candace Parker and many more.
6. "The Shop" does not have media interruption
Similar to the digital media company's name, Uninterrupted, that LeBron James and Maverick Carter own, James intent was to allow celebrities to voice their opinions without the media controlling the message. LeBron, therefore, made it clear as the show made its debut that he aimed to speak up without the fear of backlash because, in the end, it was not about him. The media usually can twist what people say, but at "The Shop," celebrities have no fear. Maybe it was that freedom that made Odell Beckham Jr. describe an experience with a fan who made him feel like a zoo animal.
7. The shop offers an experience of being black in present-day America
LeBron wanted a place comfortable enough to vent about his constant juggling between being a celebrity and being black and the double standard treatment that his other Caucasian colleagues can relate to in the industry. He shared his experience of attending an almost all-white Catholic school and how his home in Brentwood was spray painted with offensive words.
8. "The Shop" is intimidating even to other influential people
The fact that the show is unfiltered has seen the guests and James himself be so outspoken that it is intimidating, even to President Trump. When Michael Bennett made it clear that he never got the candor he was looking for as a kid from Michael Jordan; it was quite intimidating even to President Trump who happens to be a Jordan fan. However, LeBron knows he has a significant influence on the black community, and he is ready to expose hypocrisy.
9. It has episodes that have had very low ratings
In 2018, Jason Whitlock rated the series poorly on the "Speak for Yourself" show where he criticized James saying he was out of touch with the black community. Jason went further to label James the "Black Trump" by saying that the barbershop he had aired in that episode was just a visualization of how Trump imagines a black barbershop to be.
10. "The Shop" has been criticized as fake and for-profits
The show has had its share of criticisms but among those that stand out is LeBron using the show to make money by making people believe that his brand is all about honesty. Another one is Jason Whitlock saying the shop is fake news and does not represent the true black barbershop since he also grew up having his hair cut in one. He said that he never saw the black men drink red wine but instead, they drank Cabernet.