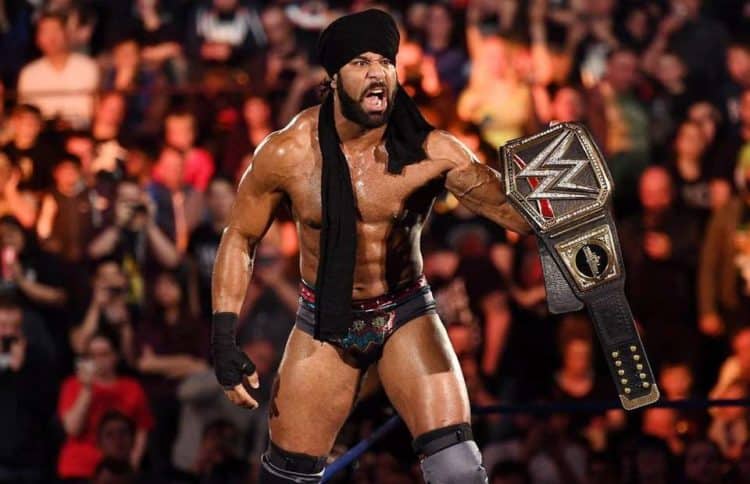 You can think what you'd like to about the WWE and while it's true that much of it is staged, faked, whatever you'd like to say, the absolute truth of the show is that it does draw a very big crowd and this is largely because of the very enticing characters that make the show what it is. Jinder Mahal is one of those names that most wrestling fans know but anyone else might draw a blank on. This is largely because while he's big in the industry at this time he's still not quite at the level of say, Hulk Hogan, Macho Man Randy Savage, The Rock, or Andre the Giant. Those are great and legendary names that have earned their notoriety through many different venues, but Mahal doesn't appear to be too far behind them since he's been making headway in the business for a while now and has climbed the mountain to reach its biggest prize and is still seeking out a return to that top position.
Here are a few things you might not have known about Mahal.
10. He is Indian, but he was born in Alberta, Canada.
Jinder draws a lot on his Indian heritage to sell his character but while he is in fact very proud of his lineage and his culture he was born in Canada, so any talk of him coming from anywhere else is just for the story line that goes with his character. Thankfully he can claim the Indian culture rightfully, as in the past it's been seen, and still is, that some characters have been said to come from other places but are in fact more local than you might think.
9. Like a lot of other wrestlers he started out on the independent circuit.
One thing that a lot of folks don't seem to realize is that almost no one just comes over to the WWE and gets a job without first proving themselves worthy by working the circuit. Some people spend years wrestling in low-paying jobs before they get the call, and some of those give up before the call ever comes since the independent circuit is tougher than you would think and requires a bit more from the wrestlers.
8. He was born into a wrestling family.
This definitely gives anyone with aspirations to becoming a wrestler a distinct advantage since like a lot of other things in life it really depends on who you know and what kind of contacts you can tap to get into the business. Plus the training and the experience a person can fall back on when it comes to family is invaluable.
7. Mahal was quickly established as a heel when he came into the WWE.
He wasn't the good guy at all and to be honest he still isn't since he seems to play the heel so well. Given the fact that he came out in a turban a lot of people were inclined to throw things at him, but these days that kind of behavior is bound to get someone booted by security. So far he hasn't had a turn to being the face of the company yet, but it's kind of interesting to think that it might happen.
6. He was let go from the WWE in 2012 but brought back in 2016.
Mahal didn't really get a good initial push when he first came into the WWE. His character was kind of a joke and he was less of a threat to anyone than a roadblock that was easily toppled. When he was let go it wasn't much of a surprise, but when he came back he was ripped and looked ready to go.
5. Jinder actually has a pretty decent following on social media.
His followers number in the hundreds of thousands and it's not hard to see why this might be since he does represent change in the WWE no matter how many people want to see it or how many just want something other than what they expect to happen.
4. Originally he was a jobber when he came to the WWE.
Jobbers are basically the people that are there to be walked on by the other stars as a means of ascending the ladder, the guys that perform the warm-up matches during pay-per-views and the kind of guys that are there just to be seen for a minute or two and then pushed to the back. As of now he's transcended that role, but for a while that was what he was considered to be.
3. He's in his 30s at this time.
This guy is only 32 if you can believe that. Something about him makes him seem a bit older, perhaps the wear and tear that wrestlers take has aged him a bit. He's still in great shape but still doesn't look this young.
2. Mahal is the first person of Indian origin to hold the WWE title.
There are a lot of firsts that have come across the WWE in the last few decades and Mahal is one of those that shocked a lot of people, especially since he beat Randy Orton, a guy that's held multiple championships throughout his career. To say that people were unprepared for this is a serious understatement.
1. As of now his net worth is around $300,000.
That seems pretty low considering how much the business is worth and how much some of the other stars get paid. But honestly it's a good chunk of change and despite what they go through a lot of WWE stars are well taken care of, especially when they hit a certain level within the company.
He's not the most popular superstar but he's come a long way.