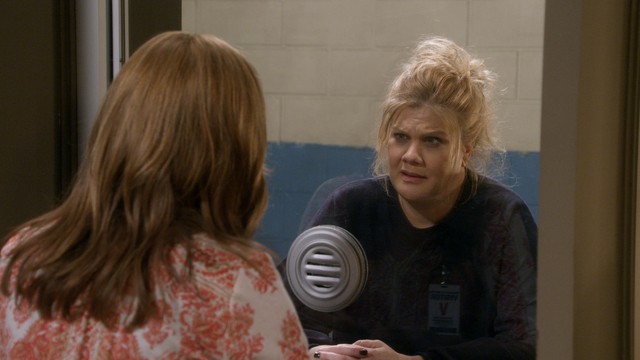 If you remember the show 3rd Rock from the Sun, yep, the same one with John Lithgow, French Stewart, and a very young Joseph Gordon-Levitt, then you'll likely remember Kristen Johnston. She was one of the main cast members for that kooky show and she's always been something of a "big" woman in terms of her height and imposing stature. But aside from that she's always been rather comical as well since she can make people laugh rather easily. It might seem like she fell off the map after a while once the show was over, but she's been around for a while now, still doing her thing and experiencing her ups and downs as life has gone. She hasn't been quite as visible as she used to be but she's still been prominent enough to be counted as a part of show business all the same.
Here are a few things about Kristen you might not have known.
10. She posed nude for PETA to protest horse-drawn carriages.
It's not certain just how this would solve anything or prove a point since PETA seems to go all out for reasons that only they can understand at times, but hey, if it works for her. In truth the horses that pull the carriages in many cities are typically well taken care of according to the laws governing such a business and aren't 'suffering' as much as PETA seems to think.
9. Kristen was diagnosed with lupus myelitis.
Despite being kind of rare this disease can get quite serious since it affects the spinal cord and can cause weakness among a few other very notable symptoms that can have a huge impact on an acting career. To date Kristen's been doing what she's needed to do to keep herself upright and mobile.
8. Her father was a senator once.
It might be kind of a different life living with someone that's so invested in politics, especially if your ambition happens to run towards something that's not involved in politics. But from all accounts it would seem that her home life was pretty average.
7. She spent a good part of her teen years as an exchange student.
Kristen was spending a pretty good amount of time between Sweden and South America as a teen as an exchange student, which is a rather interesting experience since it allows students to visit and engage with other cultures at a time in their lives when such experiences are bound to be a little more fun.
6. She's in her 50s now.
Time does fly since it seems as though it wasn't all that long ago when she was considered to be one of the best looking women in Hollywood. She's still fairly good looking now but age and a few other things in her life have been taking their toll. We've all got to age, but addictions tend to make it happen a little quicker.
5. At one time she was addicted to alcohol and pills.
It's fair to say that she's not the worst addict to ever come around but there was a time when she was easily drinking two bottles of wine per night, a habit that can get kind of spendy depending on what kind of spirits you want to pound. Eventually though she did get clean and has stayed sober since apparently.
If anyone remembers this then good for you since it's one of those relationships that comes up when talking about Kristen but isn't really out there for those that are interested in current events. This relationship seemingly happened before Ryan really blew up on the screen since in the pictures they have together he looks pretty young, almost around the Van Wilder days.
3. Kristen has a net worth of $14 million.
If your eyes just popped out of your skull don't worry, you're not the only one that's amazed. Obviously she made a few sound investments or perhaps simply figured out something to do with her money that made a lot more sense than others. Even not being at the top echelon of the acting industry at this point she's still got a healthy net worth that keeps her from being considered an out of work and broke actor.
2. It sounds like she's never been married.
There doesn't seem to be any record of her getting married, so it seems that she just never found the right person. It does happen sometimes.
1. Her social media presence isn't all that big.
This isn't too much of a surprise since she was popular well before Instagram and Facebook came out, but her career had also quieted down a bit by the time both came on the scene. That being the case she does still have a good number of people that are following her on social media.
She's still a funny woman.