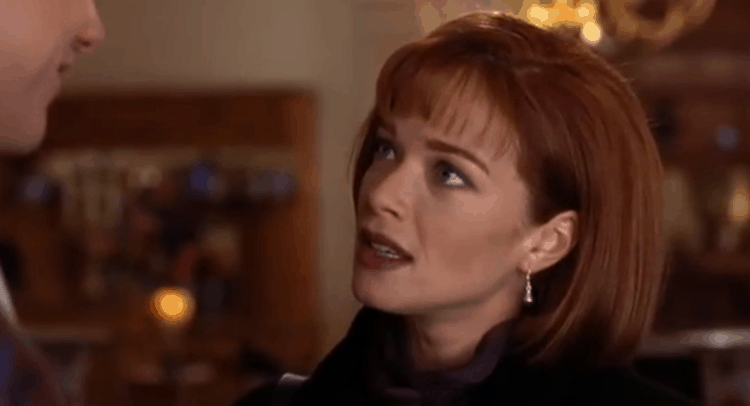 It's hard to think of something that you might not have seen Lauren Holly in since she's been around quite a bit when it comes to movies and TV. But chances are you've seen her more often in TV lately than movies despite the fact that she's stayed pretty busy. She was at one time a very big part of NCIS as Director Jenny Shepard, right up until her character arc was played out and she was phased out of the show. Wherever she's been seen however Lauren has proved to be a great asset since she's usually been cast into roles that make a lot of sense for her personality and have been very easy to accept since she's the kind of actress that can play it off convincingly if not perfectly. Her filmography and accomplishments kind of speak for themselves since she's done so much in her career that it's hard to doubt just how talented she really is.
Here are a few things you might not have known about Lauren.
This role went to Courtney Cox if you remember but Lauren would go on to star with Carrey in Dumb and Dumber not too long after. Chances are it was probably a good move to avoid Ace Ventura, though some might have said the same about Dumb and Dumber no matter how funny it was.
9. Lauren became a Canadian citizen in 2008.
She has dual citizenship between Canada and the US. It's hard to see the benefits of this unless you're the type of person that needs to cross the border again and again but there are a lot of upsides it would seem since a lot of people have done this.
8. She was in a Dixie Chicks video.
It's kind of fun to see well-known actors in music videos as it kind of lends them a bit of an edge over other videos at times. People like being able to recognize well-known actors when it comes to anything that's not strictly a movie or TV show since it's kind of a bonus.
7. Tom Skerritt was her acting mentor.
Yes, the same Tom Skerritt that played the role of Dallas in Alien and had a big role in Steel Magnolias. Lauren has stated that she owes him a lot when it comes to her acting ability as he's been there for her quite often.
6. Her audition for Sister Act didn't go all that great.
Lauren went in telling people that she couldn't sing because the honest truth was that she couldn't. When someone asked her to sing however she did as they asked and was absolutely horrible since people were staring at her awkwardly after. Thankfully they dubbed her singing parts.
5. She was a cheerleader in high school.
Lauren seems like she might have had the disposition and the build to be a cheerleader at one point. At this time however it's kind of doubtful she's kept up on the kind of fitness regimen that would allow her to do most of the moves.
4. Her marriage to Jim Carrey only lasted a year.
A lot of people know that the two were married but it was a question of how long since it seemed like Carrey moved from one woman to the next kind of quickly back then. But they were only married from 1996 to 97. If you can recall Carrey kind of had a thing for dating women that he acted with, though a couple of them did say no.
3. Lauren got her start in the early 80s.
She's been around for a good long while, getting close to four decades at this point. It's very fair to say she's been there, done that, and is still doing it since it this seems to be something she enjoys and wouldn't give up unless she had no other choice. As of now though it seems like she'll be here for a while yet.
2. She's been a soap opera star.
There are some definite benefits to being a soap opera star and some downsides it would seem. The obvious upside is that people come to know who you are and what to expect from their favorite actors. A downside might be that the reputation that a person earns on a soap opera might follow them around and even taint any other chance at success that the individual might have.
1. Her net worth is up around $14 million.
Lauren has done a lot in her career and has managed to earn a great deal for her efforts over the years. To think that she would be worth any less might not be hard to do since honestly she's not quite the blockbuster actress that has her face plastered everywhere. But when she is in attendance she's at her best and that's enough to make her worth every penny.
She's a very classy woman that exudes a very strong aura of confidence.