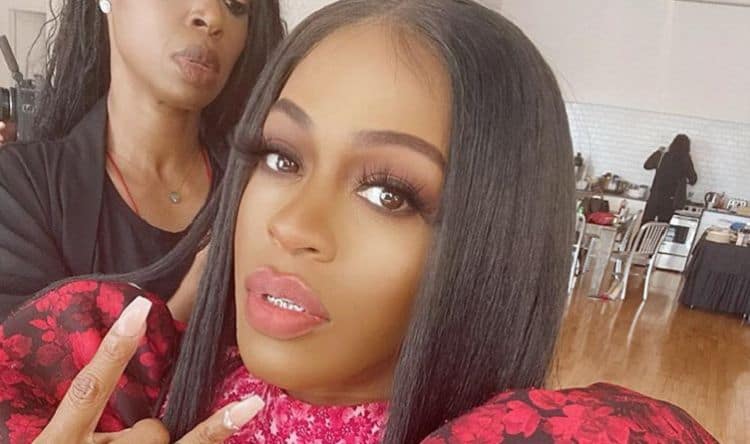 There are a lot of people that know about Lil' Mo and there are likely those that like her and those that don't care that much. That's the nature of the music business after all, not everyone has to like you, but it is reassuring to know that there are usually thousands if not millions of fans that will stand up and say they know you and will defend your good name no matter what. Lil' Mo is someone that has put in a lot of work when it comes to her career and has done a lot of great things as well. The fact that she's feuded with some people along the way seems to be par for the course since in this business not a lot of people get by without having at least one or two feuds in a lifetime that are noticed and written about or put on blast over the internet once or twice. But throughout it all she's still managed to do her thing and make it work.
Here are a few things you might not have known about Lil' Mo.
10. She was born into a military family.
Her family moved around quite a bit thanks to her father and yet she made this work for her too since every place they went she would be seeking out talent competitions in order to make her way towards the fame and notoriety that she wanted. Mo knew at a young age that she wanted to be famous, so she's been driven for a while.
9. Lil' Mo did a lot of collaborations before her career really got going.
Everybody's got to earn their way up after all and no one gets a free pass. She worked with a few people during her rise to fame until finally she got to go solo and put out her own album. From that point on things really started looking up.
8. She has 5 kids by 3 different fathers.
Some people look down on this kind of thing even today to be honest. There's nothing saying she's a bad mom or doesn't make it work with her exes though so quite honestly having this many kids isn't a crime or carry as big a stigma as people might think. She might just be into having a big family, though it might have been nice with just one man to make it a bit simpler. That's just not how things worked out it would seem.
7. She was assaulted by an unknown male at a concert venue once.
This event shook her up so badly that she had to cancel several appearances and take some time off to get her head right. The attacker apparently crowed about what he'd done afterward but he was never caught. Eventually she came back and even wrote a song about the experience.
6. Since 2000 she's struggled with an eating disorder.
Eating disorder's aren't a joke despite the fact that many would no doubt crack wise about it. Struggling with something like this is difficult enough with mockery and it's fair to say that she's been doing a fairly good job.
5. She's had a couple of feuds with other rappers in the past.
It almost seems as though feuds are meant to happen when it comes to R&B singers and rappers from time to time, as though it's a common staple of the industry that people should be expecting. The reason why it's so easy to downplay it is that eventually most of them reconcile in one way or another and things get smoothed over so that work can continue.
4. Her awards kind of speak for themselves concerning her talent.
She has managed to accumulate a fair amount of awards and in fact has won close to as many times as she's been nominated. This speaks of a lot of skill and ability that too many people might be willing to discount when it comes to how effective she is on the mic. It's hard to argue with success sometimes, but people try.
3. Social media certainly loves her.
It's amazing to see who has more followers than others and to realize that it's not really bound by what industry a person excels in. Models might have in the millions of followers but celebrities like Lil' Mo are still impressive enough when it comes their social media following.
2. It would appear that she doesn't like to wait long before getting married.
This could be seen as a slam on her character but it's kind of true since between each husband there doesn't seem to have been a long period of waiting before she was getting hitched again. Some folks don't like to wait, perhaps thinking that too much waiting just makes it harder to get out there and find someone. To each their own and all.
1. She's worked with Missy Elliott in the past.
This seems like it might have been one reason that she was able to rise as she did, but again, her awards kind of speak for themselves.
Like her or ignore her, Lil' Mo's got talent to spare.