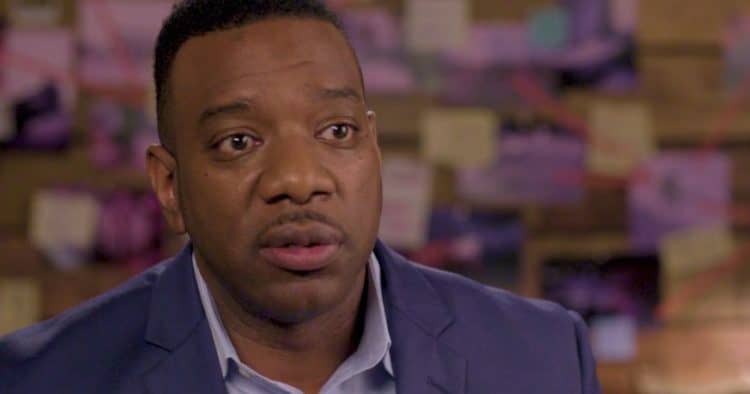 What drives someone to commit a crime? More specifically, what could possibly be strong enough to drive someone to kill another human being? BET's latest show seeks to answer the many questions we ask about the bad things that happen in life. Murder in the Thirst is the latest docu-series that highlights certain examples of real-life crime to discuss and discover the basic human emotions that are ultimately tied to our actions as people. The BET show is absolutely brand new, so there probably aren't many things you know about it just yet. Here are 10 things to get you updated before the show premieres.
1. LisaRaye McCoye
LisaRaye is going to be the host of Murder in the Thirst. The entertainer, model, businesswoman, and philanthropist is not new to the silver screen at all. She's starred in a couple of shows in the past, All of Us and Single Ladies.She's probably best known for starring in a film back in 1998 called The Players Club.She played the role of Diana "Diamond" Armstrong alongside Ice Cube. LisaRaye McCoy was also the former first lady of the island of Turks and Caicos.
2. Judge Faith
Faith Jenkins is a powerful voice. She serves as the expert on Murder in the Thirst.Her extensive background professionally and on television more than qualifies her for the role. Jenkins even had her own court show, Judge Faith,which ran from 2014 to 2017 for 3 seasons. She's currently one of the legal analysts for MSNBC. Faith Jenkins graduated top of her class at the Southern University Law Center in Baton Rouge, where she earned her Juris Doctor degree. She received her bachelor's degree in political science from Louisiana Tech University.
3. Danine Manette
Danine Manette is another expert on the show. Manette has been featured on many television talk shows including The Oprah Winfrey Show, The Today Show, HLN'S Dr. Drew Live, and many others. She hosts a show on TalkZone called Voice of Reason,where she addresses family, relationship, and social issues. Manette is a criminal investigator, and she also claims to be an infidelity expert. That's probably something that will come in handy for Murder in the Thirst. Manette is the bestselling author of the book, Ultimate Betrayal.
4. Dr. Paula Bruce
Dr. Paula Bruce is yet another expert on Murder in the Thirst. Her expertise is in the psychological portions of the show, which is probably the most important aspect. Dr. Bruce is known as the Pocket Psychologist. She owns and runs her own practice in Beverly Hills. She's done her fair share of expert evaluations for litigation purposes in cases that involved psychological trauma, sexual abuse, childhood abuse, and many others. Dr. Bruce received both her MA and PhD in Clinical Psychology from the California School of Professional Psychology.
5. Production
Executive Producer Tara Long produces Murder in the Thirst for Entertainment One. Long is known for her work on many reality TV shows including Siesta Key, Marriage Boot Camp, Growing Up Hip Hop, and many others. Joseph Freed and Allison Berkley also produce Murder in the Thirst for Marwar Junction Productions. Marwar is known for shows such as I Am Elizabeth Smartand Little People, Big World.With such skilled producers, we can surely set higher expectations for the show.
6. Recreations
The show is going to be based on real-life events, and it's going to feature recreations of the events. Since many of the cases involve the world of luxury and money, we're going to see that on television as well. According to host LisaRaye, the series will be mostly "half glamour, half drama." We really couldn't expect anything less than that from the BET network. While the creators of the show recreate the extravagant world of crime, the team of experts will be there to break it all down little by little.
7. Interviews
While a lot of the show will feature recreated backdrops and scenarios, all the interviews will be real. The interviews will also feature important figures from the crimes that are being analyzed in a particular episode. It's a daunting task for BET to undertake, but the interview parts of the show will basically be the factor that will increase the validity of the show.
8. Sample case
With so many crimes that have happened in the past, how does one choose which to evaluate? For one, the crime itself has to attract some type of interest. For example, Murder in the Thirst will feature an episode that talks about the death of Atlanta's playboy, Lance Herndon. Herndon was discovered dead and murdered on his bed in 1996. He was bludgeoned to death, and his mother found him in that situation. It seems as if Herndon was the subject of an angry kill, but no one knows who did it to this day.
9. Premiere
The show is set to premiere on BET on Sunday, July 7 at 9PM ET/PT time. Murder in the Thirst season 1 will last 10 weeks, and a different case will be discussed in every episode each week. So far, there hasn't been any news regarding the possibility of a season 2, but we'll take whatever we can. The network has released a trailer for the show, and that's available on the show site.
10. Extravagance
It seems as if the premise of the show would be to prove that the show will focus largely on the consequences of being too hungry for money, power, and fame. The cases that will be discussed on the show will likely feature one of these extravagant things. We will watch to see if the team of experts will offer us all solutions at some point.