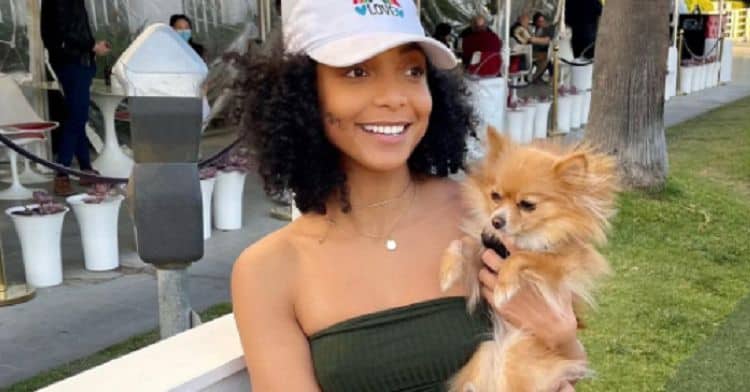 Noelle Renee Bercy's career may have started off with several small roles, but now she's ready to show the world while she deserves to be at the forefront. After landing her first on-screen rule in 2013, she made a handful of guest appearances before getting her big break in 2018 when she was cast in the series Cloak & Dagger. Thanks to the series, Noelle's fan base began to grow almost instantly. Although the show lasted for just two seasons, Noelle doesn't have any plans on slowing down. She was in the 2020 film Into the Arms of Danger and she recently got a lot of attention for her role in a new Visit California commercial. Here are 10 things you didn't know about Noelle Renee Bercy.
1. She's A New Orleans Native
Noelle was born and raised in New Orleans and she comes from a very close-knit family that includes three siblings. Noelle began her acting journey in New Orleans when she started studying at The New Orleans Center of Creative Arts. From what we can tell, she currently lives in the Los Angeles area.
2. She's A World Traveler
Most people would agree that traveling is one of the best experiences a person can have. There's simply nothing that can compare to being in a new place and being surrounded by different people. This is a feeling that Noelle really appreciates and she has gotten to do a lot of traveling over the years. Some of the places she's visited include Mexico, Jamaica, and Thailand.
3. She's A Trained Dancer
Acting is what Noelle has become most well known for, but dance is truly her first love. During an interview with Nyota Magazine, Noelle said, "I've always been an entertainer since I was little girl. After I took my first steps, I began dancing. Each holiday I would force my siblings and cousins to put on dance shows s or plays with me to perform in front of our family. I attended performing arts schools growing up and specifically concentrated on dance where I technically trained in ballet, tap, jazz, modern, African and hip-hop. Dance led me to my love for performing onstage, which led to my passion for acting."
4. She's A Dog Mom
Noelle doesn't technically have any children, but that doesn't mean she isn't a mother. Noelle has two adorable little fur babies named Coffee and Donut. For those of you that were wondering, yes they have their own Instagram account that highlights all of their adventures.
5. Her Faith Is Important To Her
Noelle hasn't gone into specific details about her religious beliefs, but her Instagram bio suggests that she is a Christian and that her faith in God plays a role in her life. Since the entertainment industry can be full of ups and downs, Noelle has probably had to lean on her faith a lot over the years.
6. She Loves Comedy
If you follow Noelle on social media, you may have noticed that she has a great sense of humor and she loves making and posting funny skits. Eventually, she hopes to really break into the world of sketchy comedy and it looks like she's already off to a great start.
7. She's Passionate About Representation
Since the inception of the entertainment industry, people of color have fought to be seen. Over the last several years, things have improved greatly and this is something that isn't lost on Noelle. She told Nyota Magazine, " I'm proud of the progress the entertainment industry has made thus far in terms of representation. I did not see many faces that looked like me on television when I was a child which led to me think some of my physical features were undesirable to mainstream. Being able to see people that look like you, that come from where you come from, that speak how you speak in positions of power and influence is inspiration to reach farther."
8. She's Working On Creating Her Own Stories
At this point in her career, Noelle has spent almost all of her time in front of the camera, but that won't always be the case. At some point, she would love to be on the other side. She is looking forward to getting into writing and she's already made her debut as a producer.
9. She Was In The Hunger Games: Catching Fire
Noelle is fortunate to be able to say that she's been a part of some very successful projects. Noelle's second on-screen appearance was in the 2013 movie The Hunger Games: Catching Fire. Even though it was a minor uncredited role, it was still a great experience for her to have early in her career.
10. She Likes To Stay Active
Looking and feeling her best are two things that have always been important to Noelle and physical activity allows her to do just that. Even though she doesn't always work out as often as she'd like, she enjoys the physical and mental benefits that come from being active.