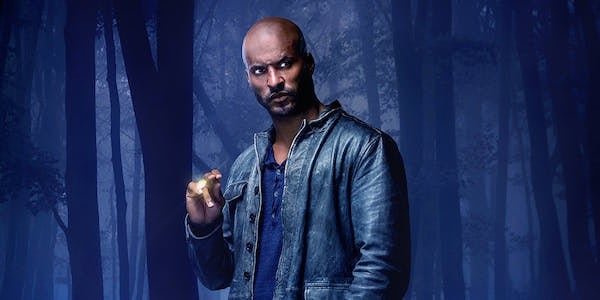 You know you've seen him at least once or twice but you might not have known his name. Ricky Whittle is hard to miss when he shows up since he's just that intense in his look and his act and at the same time is pretty awesome to be honest. The shows that he's been seen in throughout the years have been made just a little bit better for his presence since despite the fact that he's kind of been downplayed in a couple of them it was still possible for his character to become someone pivotal after a while since he played the roles so powerfully that even for TV he was someone that you couldn't help but start to like. It'd be nice to see him make the leap to movies but at this point it would seem that he's doing pretty well in TV and might have found his niche. Still, it would be great to see what he could really do if given a lead or at least important role in a movie.
Here are a few things about Ricky that you might not have known.
10. He's played a character named Lincoln in two different shows.
The first character of Lincoln he played was in The 100, a show that featured a group of teens that were sent to earth in order to see if the surface was able to sustain human life. Lincoln was one of the natives known as Grounders, those that had been living on the surface for generations after the world had been contaminated by nuclear fallout.
9. Ricky admits that he doesn't have a lot of skills speaking on the phone.
This is kind of an odd development for anyone to experience but it's very real since some folks are a lot more eloquent when in person than on the phone. It could have something to do with being able to see the person they're talking to and really being able to connect with them.
8. He thinks that his show, American Gods, is in some ways better than Game of Thrones.
This is kind of hard to stomach if you're a GoT fan since a lot of people would offer a counterargument that would draw upon anything and everything that could be brought to bear to explain why it's not possible. But in truth, both shows are pretty impressive.
7. In terms of his accent he's kind of a mimic.
This is more rare than you might think since a lot of actors can at least make a decent attempt at one accent or another. But Ricky is the kind of person that can mimic an accent pretty well when he's given the kind of exposure he needs.
6. He's kind of an ambitious person.
This is an important quality for a lot of actors and something that seems standard when it comes to getting what you want in show business since the business isn't really designed for those that are meek or timid in any way. He's the type that you can see is serious about what he's doing and is ready to go to just about any length it might take to get the role he wants.
5. His net worth is around $1 million.
This seems a bit low to be honest but it could be on the rise since he's been trending for a while now and he is the kind of talent that really needs to be continually pushed and cultivated so that he can bring his level of skill to the screen in a bigger and more noticeable way.
4. His family had to move from one country to another every few years.
This was because of his father's position in the Royal Air Force, which required them to move every so often and kind of left Ricky without the ability to make any real, lasting friendships. It also kind of made him feel like an outsider.
3. He was bullied as a child.
Being the outsider in any place is kind of hard to deal with since it leaves a person feel kind of adrift and without anyone to really talk to. For Ricky it was hard since he wanted so badly to be like those around him but was obviously quite a bit different. Thankfully though he persevered and kept moving forward.
2. Ricky studied law before going into acting.
The guy has some educational chops to him and if not for going into modeling it's possible that he could have found his way into a court room or some other type of employment in law. But obviously he decided to go down another path and so far it's been quite a trip.
1. He's been nominated for a few awards in his time.
Ricky has been impressing some folks and if his reputation keeps trending up it seems that he could be seeing more nominations in his future.
He's an impressive actor to be honest.