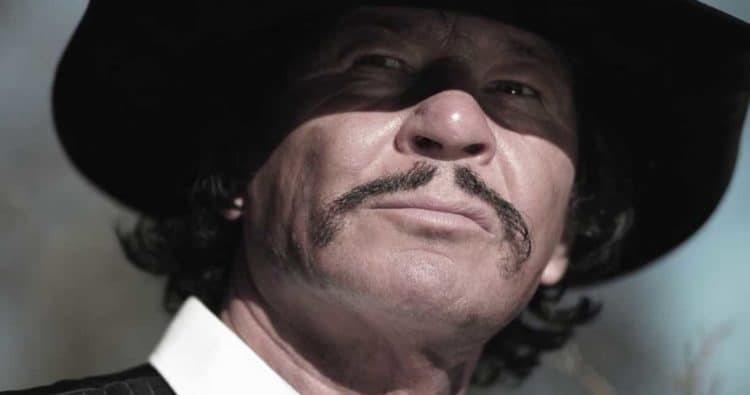 One look at Robert Bronzi and a lot of people have to look again since the resemblance to another famous star that a lot of us remember is simply uncanny. In fact that has a lot to do with how he was finally noticed and given a chance to show what he could do as an actor. As a younger man it sounds as though his idea of a good time was going to the cinema and imagining himself being on the screen as one of the heroes that would be out to take down the bad guy and ride off into the sunset. When he was given his shot he was brought on for a few different movies but so far his one biggest claim to fame is that he happens to look like Charles Bronson in a such a big way that people might have wondered if the famous star didn't actually pass away in 2003 but went into hiding. Robert Bronzi is his own person, that much is sure, and he's pretty good at what he does.
Here are a few things you might not have known about him.
10. He's a professional horseman.
This was a part of Robert's upbringing to be honest and it's something he's been working on for many years so it's not hard to see just how he's one of the best in the business when it comes to riding a horse. What's funny is that a lot of actors that are seen to ride horses either don't like them or have next to no experience.
9. Robert has a deep love for old Western films.
This is what really drew him to being an actor in the first place since he wanted to be on the big screen and be the guy that people were watching. Something about Westerns seems to grab at people in a way that draws them in and makes the story that much more alluring.
8. In his life he's had a few different jobs.
It's way too easy to look at a famous actor and assume that they've had an easy life for as long as they can remember, but in truth a lot of them have had to work their way up the ladder and likely had a few odd jobs before they made it big and became a well-known name.
7. He was in the military at one time.
Robert did enter military service in his youth as it sounds as though every young, able-bodied man was required to do so in Hungary. A lot of people happen to think that this should be implemented in the US as well since it would likely combat the air of entitlement that so many people have these days.
6. He's not exactly big on social media.
He does use social media but his following is low enough at this point that it might need some serious help to bump up his numbers. He's also said that he's still trying to figure it out and might take a little while to really get the hang of it.
5. There actually isn't a lot of information on him.
A lot of the information that's be had on him when it comes to the internet is from interviews that ask very specific questions. Any oddball facts and trivia that might be out there are few in number but are there to be found if you're willing to look.
4. He's been a stuntman as well.
This alone says that Bronzi knows just what it's like to work hard, risk his life, and do a few dangerous things here and there to get ahead. Being a stuntman isn't a job where people expect to last until retirement sometimes, but if it's done in a safe and controlled manner, as much as possible, there's always the hope that things will work out as they should.
3. Robert has done reenactments of old battles in the past.
He does have an impressive knowledge of older guns and the kind of battles that took place in the old west and as such he's had a lot of good fortune when it comes to pursuing his desired path in the movies.
2. As you can imagine a lot of people mistake him for Charles Bronson.
As Tim Tal of BZ Film has reported, when it was established that he did look a lot like the famous star he fashioned his look after Bronson and even started taking on movie roles that Bronson would have taken. In a big way he's his own person and actor, but a lot of people are constantly comparing him to Bronson for a few reasons.
1. He's trained in Judo and Muy Thai.
This keeps him in shape but also keeps him disciplined and active enough to continue what he loves doing. Not only that, but it definitely keeps him limber enough to stave off a few of the otherwise debilitating effects of age.
It might be worth it to give him a look.