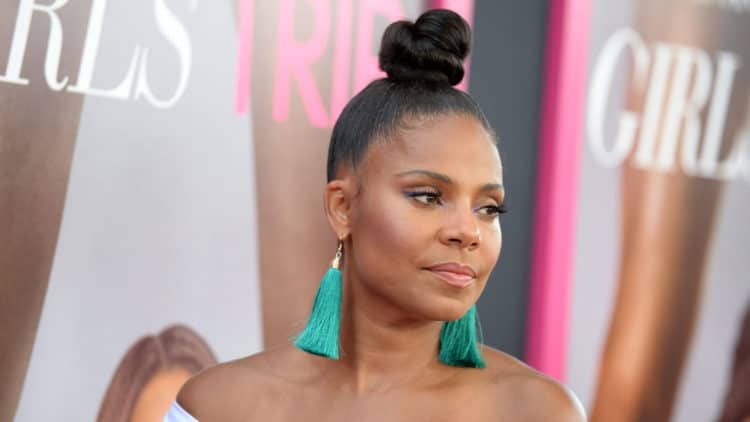 It'd be hard for a lot of people to say that they haven't seen Sanaa Lathan once or twice during her career. Despite what some might think the roles taken on by black actors and actresses have been increasing quite a bit throughout the years and she's been seen in a few films and TV shows where she's been made into a rather prominent character. Depending on the movie however it might be that some people simply haven't seen them and might not know about this. She was after all in Love & Basketball, a very powerful and moving film that a lot of people tend to love, but then she was in Aliens vs. Predator as well, which is a film that was only really watched by those that happen to love both franchises and wanted to see the outcome. Be that as it may, Sanaa is still an outstanding actress that has come a long way in her career and seems to have more to prove as the years go by.
Here are a few other things you might not have known about Sanaa.
10. She had to gain 20 lbs. for a role once.
This is pretty rough for a lot of actors since some roles can be accomplished by wearing special suits or even by special effects. But then there some in which the actor needs to put on the weight in order to make it look real enough. The downside of this is that it can wreak havoc on a person's body.
9. Sanaa grew up in show business but she never thought about becoming an actress.
Her father is a director and her mother is an actress so it's fair to say that she saw a lot when it came to show business since she spent her time divided between them from New York to LA. This couldn't have been an easy existence at all times but she made it work and eventually went to live with her mother to be closer to her desired profession.
8. Despite her roles on TV shows a big nod to her career came from her role in Blade.
This was after all one of the biggest steps in her career, and despite the fact that she turns out to be another villain that Blade has to take care of there's a bit of emotion involved since she plays Blade's mother, who he thought was dead to begin with.
7. Her social media following is in the millions.
One has to wonder how this happens, but then if the celebrities are actually getting in on the social media account and posting things on their own and managing it to some degree it makes sense. She's become something of an icon throughout her career.
6. She has a net worth of around $4 million.
How one attains this kind of worth isn't hard to figure out, but how it's affected as they go through life and either don't do much or do even more is difficult to track since the net worth of a lot of people don't seem to go up or down all that often.
5. There's been a few issues between her and a couple other actors in the past.
Sanaa has never named names, but she's stated that she's had a few issues with her costars in the past and that she felt incredibly disrespected. The idea of getting along with one another on a set is still an alien concept for some people while others just want to get the job done and at least avoid upsetting anyone.
4. She enjoys stories about strong black women.
In this day and age the story of the strong black woman is one that many people are paying attention to and are rallying around as it's a different era. It would seem that the increased opportunities for people of color, women especially, are starting to make a lot of women feel empowered, which is great.
3. Sanaa trained in gymnastics and dance as a child.
She's been doing this kind of thing for most of her life but she still didn't think she was going to become an actress early on. Dancing was her big thing since she wanted to take after her mother and do her own thing. But apparently acting eventually became her calling.
2. She's had her time on Broadway.
This is something that a lot of actors would give their right arm for, metaphorically-speaking of course. The opportunity to be on Broadway without winning anything is something that would be a huge moment in a lot of peoples' lives, but actually gaining notice would be beyond belief for some.
1. Her name means "work of art" in Swahili.
This would certainly describe Sanaa to a tee since despite all her success she's still moving forward with the project that is her life, and she's still got a lot left to go she believes.
It's always interesting to see her show up on screen, no matter what character she's playing.