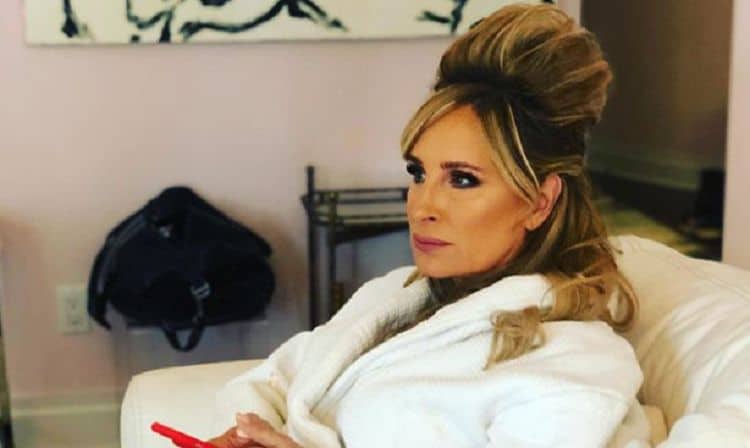 When looking at those that have risen to prominence in any society it seems to be important to look at those that have gained the kind of lives that are in fact quite affluent but aren't as well known since they are tending at times and deserve the attention. Sonja Morgan is one of those since she has been quite successful in her life and yet is unknown to many unless they happen to belong to those numbers that watch the shows she's been on or have knowledge of just who she is and what she's done. That being said her life does seem like it's been interesting to many upon many people since she has reached the level of prominence that she has. But then she has also been working behind the scenes in her chosen field and has done a lot to earn the position she enjoys, even if she seems a bit egotistic at times.
Here are a few things you might not have known about Sonja.
10. She's been on the Real Housewives of New York City.
This is one reason why a lot of people might not know who she is since this is one of the many series that seems to be interesting to some but not nearly as popular to others that find other programming that is not reality TV much more entertaining.
9. Somehow she's still worth around $8 million dollars.
It's kind of amazing at this point after what she's been through within the past decade that she's still worth this much, but it does argue that she is a self-made person that is able to recover quickly from setbacks that might ruin other folks. This does show that she is able to really turn around and create something from almost nothing, in a manner of speaking.
8. She had to file for bankruptcy in 2010.
Apparently she was millions in debt and had to finally file for bankruptcy, which many people know is financially damning since it takes so long for people to come back from it. But since Sonja seems to know how to work the system and make herself appear more appealing in so many ways when it comes to business it's obvious that she made her way back.
7. Sonja has her own fashion line.
This is something that's impressive if someone can actually say it and not laugh and not depend on anyone else to make their brand and their name pop with the kind of verve that is needed. The fashion industry is undoubtedly one of the most cutthroat industries out there and the act of actually become popular enough to say that it's YOUR line is something to be proud of.
6. Originally she declined to join RHONY.
This might up her reputation in the estimation of some since reality TV isn't the devil but it is something that many people have been rolling their eyes at for years now and tend to look at the people that round out the cast askance. Sonja did join the show eventually, but it appears that initially she wanted nothing to do with it.
5. Her social media following is quite sizable.
Fashion seems to come with a large media following depending on the person and it's usually in the hundreds of thousands to millions since let's face it, fashion is something that many upon many people tend to follow and enjoy.
4. Apparently her divorce was a painful affair.
It's a little difficult to describe this since it would seem that at first it was painful and then it became mellow and at one point she said that she left him, he didn't leave her. In truth it does seem as though it went down in a very normal way that left both husband and wife feeling as though they lost something and still loved one another deeply but couldn't live with one another.
3. She's got a few acting credits.
RHONY is probably her biggest claim to fame when it comes to being on screen since at this point in her life she's been on TV for a little while but not in any huge way that would be easily recognized by so many that would allow her to lay claim to an impressive standing in show business.
2. Sonja has a very big taste for luxury.
This is pretty obvious since she likes things the way she thinks they should be and definitely enjoys living the high life. Some might think that this makes her something of a snob but it could just be a part of her character that some like and some don't. It could also be something that people just learn to live with.
1. She was a model in the past.
It's interesting to think just how many models have gone through the business and then used up and left with next to nothing. She's not one of them obviously.
Like her or not, Sonja has made her own reputation.