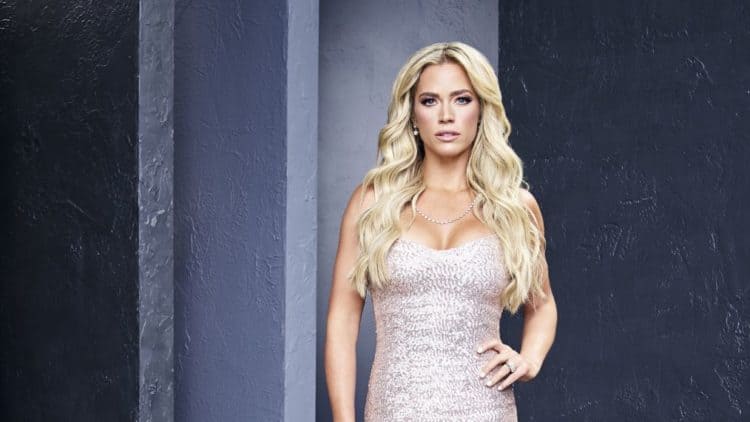 One thing that's fairly obvious when you see a beautiful blonde woman with a nice body and a gorgeous face is that many people will start making assumptions about how she got rich, her intelligence, and host of other things that might be geared towards tearing her down in a number of ways. Thankfully if this has happened Teddi Mellencamp Arroyave has either ignored it or taken it all in stride since she is a rather bright woman that has made her own fortune and has created a life that she happens to care a great deal about with her family. The attempts of so many to tear down celebrities that don't call an insane amount of attention to themselves is kind of hard to stomach really, but when you dig a little deeper into their bio it's amazing what you can find and how much of it shows a person how interesting these individuals are.
Here are a few things about Teddi you might not have known.
10. She's had to go through several miscarriages.
This is when it's time to be silent about the kind of hardships that she might have faced in her life, as a miscarriage is not an easy process, and doing it more than once is something that any mother should be spared from since it's a soul-crushing moment as well as a physically painful sensation that guys don't really understand.
9. Teddi is the daughter of John Mellencamp.
The last name isn't a coincidence, the famous singer is her father. She was 8 years old when her mother and father split, and to this day it might have affected her but she still seems rather close with her father all the same.
8. She's pretty active on social media.
Teddi has well over 600 thousand followers on social media so it's fair to say that she keeps tabs and does what she can to keep them happy. Given that she has her own business and is an actress it seems fair to say that she kind of needs to keep up on her social media to keep things going.
7. Teddi and her husband have kept a low profile.
This is pretty easy to respect since they likely don't want their kids to be subjected to the spotlight and would rather have their private life not put on blast now and again. As more celebrities keep doing this one can't help but be impressed as they try to take back their privacy.
6. There's not a lot of information her early education.
This could be just a lack of information that was gained or given as again, it would seem that she wants some stuff to be private and it could be that while she's enjoying the money that comes from being famous the constant exposure could be kind of a drain.
5. She's one of the stars of Real Housewives of Beverly Hills.
Some people love these shows, others can't stand them, and then some just shrug their shoulders when they hear about them. Quite honestly the shows seem as though they're designed for those that have nothing better to do than watch TV all the time, but ah well, they do offer a good deal of entertainment.
4. It's not really known what her net worth is.
There's really no number given on just how much she's worth but it does seem as though her net worth should be fairly substantial since she's been around for a bit and she has managed to become a celebrity in her time. That and a few other factors should work in her favor when it comes to her net worth.
3. She's been a fitness influencer.
In other words she's been one of those that has guided people to healthier living and made suggestions as to what works, what might be best for them, and what they might want to try in the future. She's never been a licensed fitness instructor, but she does believe in being fit and in shape.
2. Teddi has her own boutique business.
If you really need to know what a boutique is, it's a shop where fashionable goods are sold and is usually a place that is kind of high-priced and caters to a certain type of clientele that can afford the type of wares that are being sold. Some thing it's a high-toned shop and they're not wrong, but considering where she resides it's kind of wise for Teddi to have gone into business for herself.
1. She seems fairly down to earth.
Whether this is off base or not is hard to tell since from her Instagram photos she seems pretty low key at times and not as high-toned as some of the women she poses with. In truth she looks as though she's as comfortable in streeth clothes as she is being dressed up.
This is one of those times that you really need to dig a little deeper and see who she really is.