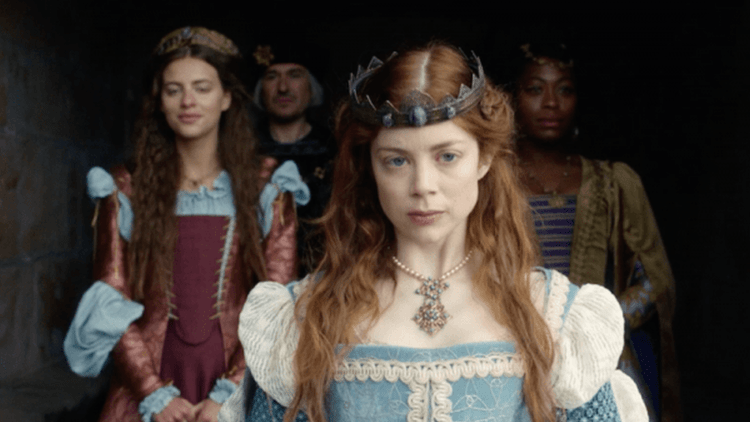 The Spanish Princess is a historical drama broadcast on Starz. For those who are curious, it is centered on Catherine of Aragon, who was a key figure in one of the most important periods in English history. Unfortunately, her story isn't a happy one, which is something that interested individuals might want to keep in mind while watching. Here are 10 things that you may or may not have known about The Spanish Princess:
1. Her Parents Were Isabella I of Castile and Ferdinand II of Aragon
Catherine was the child of Isabella I of Castile and Ferdinand II of Aragon, who were the power couple of their times. For those who are unfamiliar with Castile and Aragon, those were the two Christian kingdoms that served as the foundation for a united Spain. Something that was made possible by the marriage between Isabella and Ferdinand.
2. Catherine of Aragon Was Betrothed to an English Prince at a Young Age
Generally speaking, the nobles of Catherine's time did not get married for love but rather for political or some other kind of benefit. Due to this, Catherine was betrothed to the English prince Arthur Tudor when she was still at the age of three. Since Arthur was the firstborn son of Henry VII of England and his spouse Elizabeth of York, this meant that Catherine was expected to become the Queen of England in time.
3. She Had a Stronger Claim to England than the King of England
Amusingly, an argument can be made that Catherine possessed a stronger claim to the English throne than Henry VII. This is because both of them were descended from John of Gaunt, a son of Edward III. However, Catherine was descended from John's legitimate offspring, whereas Henry VII was descended from John's illegitimate offspring who was later legitimized on the condition that they and their descendants were barred from ever inheriting the English throne. Under these circumstances, it is safe to say that one of the reasons that Catherine was betrothed to Arthur was to strengthen her children's hold on the English throne by combining claims. Something that Henry VII would have understood very well because of his own marriage that combined the Lancaster and York claims.
4. She Married into a Still Unstable Dynasty
This strengthening was particularly important because the Tudor dynasty was still very unstable. Yes, Henry VII had managed to beat Richard III at the Battle of Bosworth Field as well as the subsequent challengers. However, his weak claim to the English throne meant that the English court was still snubbed by various European courts, meaning that one of the other reasons for Catherine's betrothal was to benefit from the recognition offered by two of the most powerful monarchs in Christian Europe.
5. The Dynasty Remained Unstable
On top of this, it is important to note that the Tudor dynasty remained unstable throughout Catherine's lifetime, which explained much of what would happen over the course of those five decades. Simply put, the personal was very much political when it came to royal politics.
6. Was Married to Two Brothers
Catherine got married to Arthur in 1501. After which, the two headed to Ludlow Castle, from which Arthur was expected to preside over Wales because of his status as the Prince of Wales. Unfortunately, the two proceeded to catch what may or may not have been the still mysterious English sweating sickness in 1502. Catherine survived, but Arthur did not. Eventually, Catherine was married to Arthur's brother Henry, who would go on to become Henry VIII of England. However, there was a long period of negotiation before this could happen, during which Catherine suffered poor treatment from her father-in-law Henry VII.
7. Maintained that She Was Still a Virgin
Canon law meant that it was forbidden for a man to get married to his brother's widow, which was one of the obstacles that held up Catherine's second marriage to the future Henry VIII. To support the efforts to secure a dispensation from the Pope, Catherine maintained that she was still a virgin because her marriage with Arthur had never been consummated, meaning that by the laws of her time, the marriage wasn't valid. Unfortunately, this issue would return to haunt her in later times.
8. Had One Child
Famously, Catherine had one child with Henry VIII, who was a daughter named Mary. This was the source of much of her later problems because the lack of a male heir meant that the future of the Tudor dynasty was looking very dire indeed. Something that fueled Henry VIII's conviction that his marriage with Catherine had been cursed by God because they had violated one of the rules laid out by the Bible. Suffice to say that this conviction went on to have great consequences for not just Catherine but also England and beyond for centuries to come.
9. Based on Historical Novels
The Spanish Princess is based on a couple of historical novels penned by Philippa Gregory. Some people might recognize Gregory's name because of the historical novels that inspired The White Princess, which is an important show to bring up because The Spanish Princess is very much a show in the same vein. For that matter, the two shows overlap, seeing as how the titular character of The White Princess is Catherine's mother-in-law.
10. Don't Expect Perfect Historical Accuracy
If The White Princess is any indication, interested individuals shouldn't expect perfect historical accuracy from The Spanish Princess. Chances are good that the broad strokes of what happened in real life will remain true in the show as well. However, when it comes to the details, well, suffice to say that people have never been shy about embellishing their source material in order to come up with what they feel to be a better story.