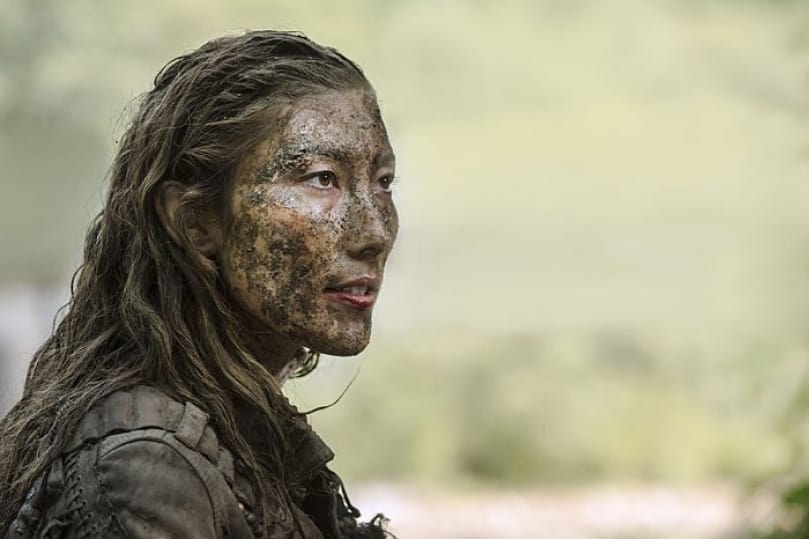 The 100Â is really rolling on all cylinders now. Season 2 has hit the ground running, and there have been no signs of slowing up. If you are not watching this show, you definitely should be. While season 1 was admittedly clunky in the beginning, the second half picked up momentum and it never slowed. It's easily at the top of my "you should be watching this" list.
This week's episode, Jaha has apparently landed VERY far from the Eastern United States (or radiation created a random desert). Clarke and Anya are being tracked, but Clarke regains some leverage. Wick returns, and works on a project with Raven. Bellamy and Finn's band of misfits loses a member, has a reunion, then further divides. Really, it was quite a rollercoaster.
I've found Chancellor Jaha's story extremely compelling. The sequence from a couple episodes ago when he donned a space suit and leaped across the ark for one last chance at survival was one of the best sequences in the series thus far. I was holding my breath the whole time. This week was quite a bit different, but in a good way. I really loved the whole story with him and the family he meets in the desert. His interactions with the son, and the way he gave himself up to protect them showed that his sense of duty and morality is ingrained in his character, and not some over politicized, one time deal. It proves how much he cared about his people, or really even people in general. He is a fascinating character. I'm excited to learn how he returns to his people (if he ever does). It's a very interesting story thus far. Isaiah Washington is a great actor, and is consistently proving he can carry his own story.
I was really excited to see Wick back. I've always been a big fan of Steve Talley's work, even as Steve Stifler's cousin in the American Pie "knock-offs" if you will. Previously, he had a guest stint on the one and done CBS sitcom, The Crazy Ones that I really enjoyed. The last time we saw Wick was on the ark, helping Kane reunite his people. I was really glad to see him on the ground, not only because Wick is a good character to have around, but Talley's comedic prowess is bound to add a much-needed comedic layer to the show. I'm hopeful that he sticks around, because Jasper and Monty were the closest things we had to comic relief, and I feel like things are about to get much more serious for them.
The rescue scene in which Bellamy, Murphy, Finn & Co. are rescuing an ark survivor has been another of my favorites of the season so far (Second only to the aforementioned space scene with Jaha). Unfortunately, they lost Sterling (RIP), but they successfully rescued the survivor in question. It was an epic scene too, because of course you can't rescue someone off the side of a mountain without grounders shooting arrows at you, right? At least they saved her. Right after doing that, they reunited with……drumroll please…..Octavia!! I was glad to see that her solo story was over, as much as I enjoyed it. It was a good choice to give her the first real reunion of the season. I liked this scene for a multitude of reasons, not the least of which was the obvious re-building of trust between Bellamy and Murphy. I haven't decided yet if we SHOULD trust Murphy, but it's an incredible story nonetheless. I'm interested to see the Finn/Murphy pairing continue, as they're two of the more interesting characters on the show.
Speaking of interesting characters, the spotlight performer for this week HAS to be Eliza Taylor as Clarke. She's always been great, but this week she showed us exactly why she's the main character and everyone loves her. She's smart, tough, and an incredible leader. I was excited when she took the power back from Anya, and their fight scene was one of my favorites. Of course, Anya was the second casualty of a surprisingly brutal episode, but it was Clarke being captured by her own people that proved the most interesting to me. I really want to know where that goes.
I'm really glad that not every character was included in the episode too. With great episodes like this, it's a good idea to retain focal points and not convolute the story by including every character every week. I'm interested to learn more about Jasper, Monty, Kane, etc., but this episode didn't need them to be great, and boy was it great.
Overall this episode was another great installment of the consistently excellent Season 2. What did you guys think? Are you happy or upset about the changes in character pairings? Did you enjoy the episode as much as I did? Let us know!
Photo via The CW