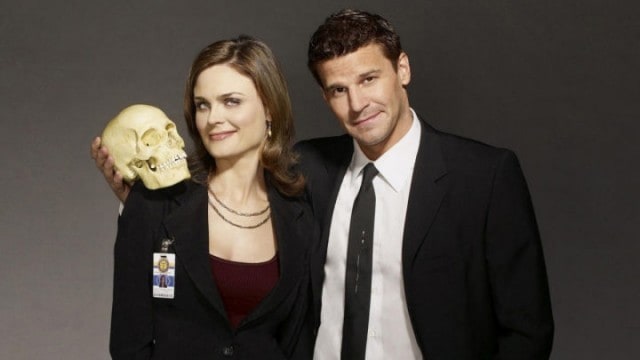 Twelve seasons of crime-solving with Booth and Brennan come to an end with tonight's Bones series finale. While we're all not-so secretly hoping for a follow-up revival or movie right now, officially it is time to say goodbye. While we sit back and enjoy tonight's series finale, we thought we'd look back at some of the most intense moments of the last twelve seasons. See if you agree with the most dramatic moments we've picked for each season.
Season 1: Brennan's Family Secrets Come to Light/Max Keenan Makes Contact – "The Woman in Limbo":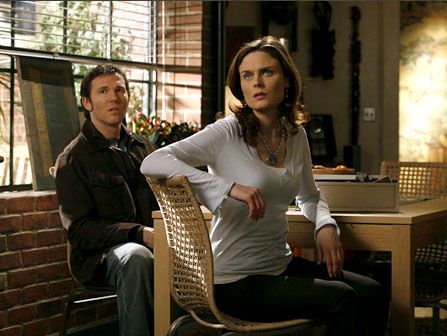 The first season finale was solely focused on Brennan's backstory, specifically the details of her life she didn't know about. The entire Brennan family, living and dead, was reunited, and Bones' trust in Booth was solidified. As if that wasn't enough, the very last minute of the episode featured the return of Max Keenan, Brennan's presumed dead father. No one died, there was no heavy violence, but that last minute was as dramatic a cliffhanger as you can get.
Season 2: Brennan and Hodgins are Buried Alive – "Aliens in a Spaceship":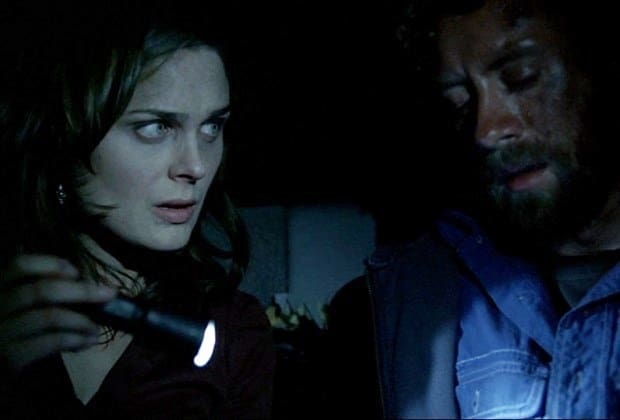 The quickest way to test the emotional and intellectual expertise of two brilliant people is to put them in the most dire situation you can think of. Not many shows could get away with burying two of their main character's alive with a legitimate chance of them surviving. It's one of those episodes you go back on Netflix to rewatch over and over again. You were simultaneously glad not to be in that car with Brennan and Hodgins, though couldn't tear away from the emotions the friends had to keep under wraps as they tried to find a way out of their situation. T.J. Thyne gave an incredibly gripping performance in this episode, arguably one of his best of the entire series.
Season 3: Zack is Gorgomon's Apprentice – "The Pain in the Heart":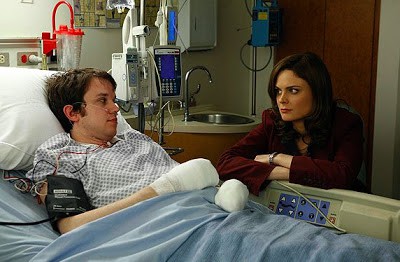 For anyone who loved Brennan's lovable intern, this episode was heart-wrenching. To find out, at least back then, that Zack's mind had been so addled (excuse the name pun) from years of working around death that he had been duped into being the apprentice for a serial killer was ridiculous. We say ridiculous in the sense that a) it was somewhat difficult to believe that given Zack's stable family life and zero cries for help that he was that malleable, and b) because that theory has now been undone by the realization that Zack was used as a pawn to cover for the real apprentice. Look back now on the years that Zack was locked up in a mental facility, and we can call this episode intense and unbelievable all at the same time.
Season 4: Booth Has a Brain Tumor – "The Critic in the Cabernet":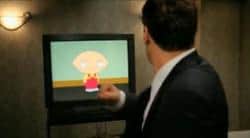 Booth and Stewie. A bad-mouthed cartoon character conversing with an FBI agent was enough to make every viewer go bonkers. Keep in mind that this happened only after Brennan and Booth decided to have a baby together (as friends). Anyone who was rooting for the two to have a relationship was scratching their heads until the final ten minutes when Brennan realized there was a medical reason for Booth to be behaving so strangely. It was a crazy kind of fun where we didn't know if we were tearing up because of the hilarity or the real fear for Booth's sanity and health. That the following episode was a beautiful dream where Booth and Brennan actually were a couple was the cherry to the Season 4 sundae.
Season 5: The 100th Episode – "The Parts in the Sum of the Whole":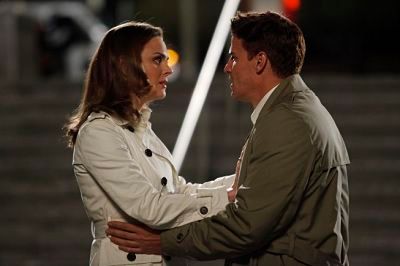 How could Bones's 100th episode not be the most intense of Season 5? It was the landmark which gave fans the real backstory into the first time Bones and Brennan met. All of us were Lance Sweets in that moment, switching between surprise and exasperation that after all was said and done, Booth and Brennan still couldn't find a way to make it work. They were literally on the precipice when Brennan pulled back, forcing fans to endure another year of the couple apart.
Season 6: Booth and Brennan's Emotional Understanding – "The Blackout in the Blizzard":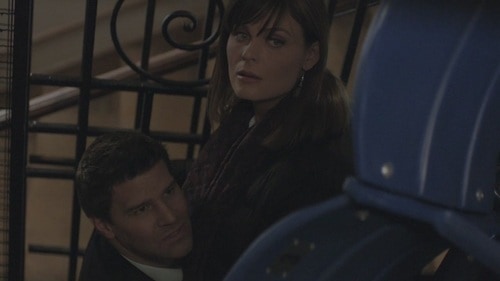 You could tell David Boreanaz directed this episode because it had a certain special focus on how the two main storylines were handled. Booth and Brennan developed a deeper intimacy stuck in that cramped elevator, even though they yet again put the brakes on a real relationship. Across town Hodgins and Angela were as raw as they've ever been faced with the reality that they could have passed on a genetic condition to their child. Part of the beauty of this episode was that everything was kept in the moment, solidifying that no matter what happened next, the love and trust everyone felt now was as deep as it gets.
Season 7: Brennan Gives Birth to Christine – "The Prisoner in the Pipe":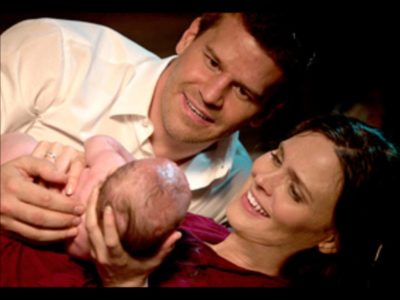 The moment Booth and Brennan fans waited seven years for finally came true when Brennan gave birth to Christine. That the devout atheist did so in a manger was a twist of beautiful irony we could appreciate, especially since it got Brennan to admit that there are some things in life that are just a mystery. The unimaginable joy of having a child with the person you love and trust most in the world is one of those things.
Season 8: Pelant Threatens Hodgins – "The Corpse on the Canopy":
Nailing down the most intense episode of Season 8 was difficult. For some reason it was the most dramatic, heart-stopping season where the most intense episodes never let up. You didn't even want to risk getting up for commercial breaks! We've settled on this particular episodes because it was one of the most difficult periods of time for the Jeffersonian family as a whole. Up until this point devious serial killer Pelant had been making moves that mostly upset everyone as scientists who couldn't outsmart the villain. Pelant putting a corpse right above Angela and Hodgins bed and blood-stained flowers in their son's crib crossed a new, horrific line. He then challenged Booth and Brennan personally as well, before delivering the final blow of forcing Hodgins to choose between saving innocent lives or losing his fortune. The situation really pushed everyone to their breaking points.
Season 9: Booth and Brennan's House is Shot Up – "The Recluse in the Recliner":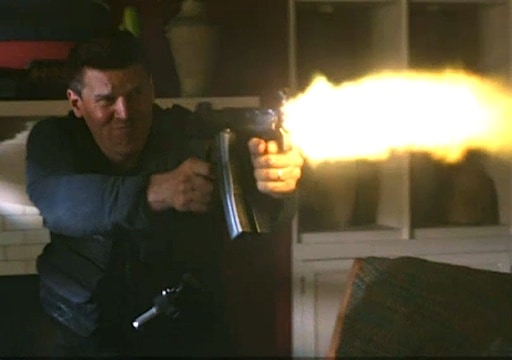 Speaking of breaking points, seeing Booth have to shoot his way out of his own house was pretty scary too. Your home is meant to be the one place of refuge for a family, especially since Booth quite literally built the place for Brennan and Christine. Yet when he was framed for a crime he didn't commit, the institution he dedicated his life to turned their back on him and his own home was the most dangerous place for his daughter to be. There was literally no saving that house after the amount of bullets went flying. Brennan and Booth were always better as a team, so watching Brennan go back to her bullet-riddled man despite the danger is the biggest proof of their love.
Season 10: Sweets is Killed – "The Conspiracy in the Corpse/The Lance to the Heart":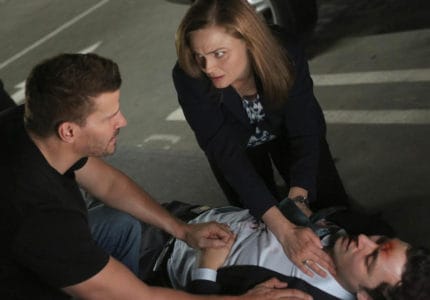 There was no way to split the opening of Season 10 due to the unimaginable loss of Sweets. He died fighting for his best friend's life, then lost his own on Booth and Brennan's arms. Case aside, the way the Jeffersonian handled his death, and his body, with courage and conviction was outstanding. It was especially fitting the way Daisy tied in the theme of the show to Sweets's bones, having one last conversation with the father of her child so she would have more stories to tell. It still hurts to think about the loss of such an important character, especially given that Booth and Brennan credit Sweets for them being together. The man even wrote their love story!
Season 11: Hodgins is Paralyzed – "The Doom in the Boom":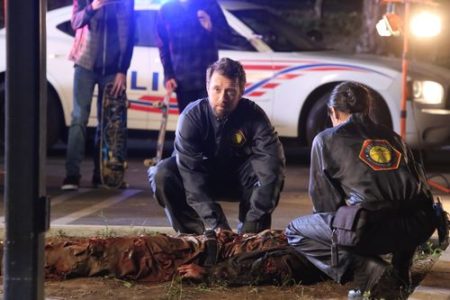 Even before Angela is given the terrible news that her husband will never walk again, the episode set things in motion for at least one major character to be seriously impacted. It wasn't until Aubrey literally threw himself on top of Hodgins that we realized just how much we'd come to love the agent with the endless appetite. He wasn't just a colleague, he'd become apart of the family. Yet not even he could stop the chain of events which led to Hodgins spending the rest of his life in a wheelchair. Any moment that alters the way a major character lives the rest of their life is going to be a gut punch of an episode.
Season 12: Jeffersonian Explosion – "The Day in the Life":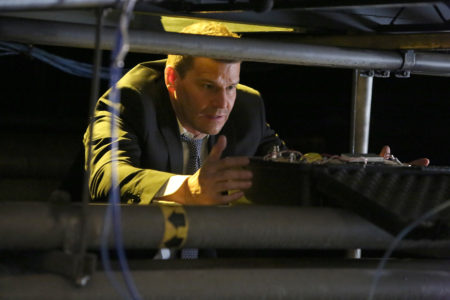 SPOILER ALERT: The Jeffersonian blew up! After shooting up Booth and Brennan's first home, the writers decided to do the next best thing and literally blow up their other refuge. Did we mention that Booth, Brennan, wheelchair-bound Hodgins, and newly pregnant Angela were all still inside? Series finale aside, I dare you to top that moment for Season 12.
Let us know if you agree with our season-by-season moments as Bones wraps its last case.