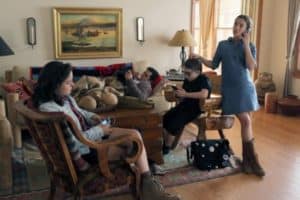 To avoid doing any sort of work President Gildchrist took the family (and Marshall) to the ranch. Chip was taking this as a way to mourn the loss of Stacy, his girlfriend, who wasn't really his girlfriend. As for Becca, she was eager to get away from D.B., even though he really wanted to go on this trip.
I wonder if the Obamas watch this show and think "Yup, that's us." But I guess they're too busy watching Homeland.
"She threw away everything we had before we even had anything." Seriously, how is Skip having trouble with the ladies with poetic thoughts like that. Hey Skip, I would like to take A Walk to Remember.
Am I the only one that thinks that Becca and Marshall are completely a bad idea? I kind of get where the writers are going with this, but I don't like it. It would've worked if Becca wasn't pregnant and in a love triangle with D.B. and Malcolm, but seeing that she is knocked up, I think the only choice is for Becca to have some sort of awkward romance with D.B. Why introduce him into the show, only for him to randomly pop up and not spend any time in trying to get to know the mother of his child or her family.
And look, there goes Becca kissing Malcolm. At least D.B. showed up unbeknownst to with a body pillow for Becca and stopped the kiss from going any further. Lesson learned: don't put some on mute on Skype and nod at everything they say. You could be potentially be agreeing to things you probably don't want to do.