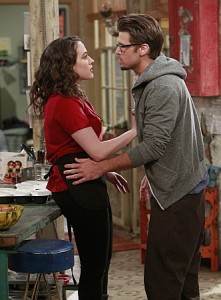 2 Broke Girls pukes up its latest delight "And the Really Petty Cash" from its freshman season, which sees Max (Kat Dennings) dancing around her relationship with Johnny (Nick Zano) as his girlfriend Cashandra (Marsha Thomasan) hires the waitresses to serve cupcakes at her event. "And the Really Petty Cash" feels like an episode that didn't quite bake long enough, its ideas never quite rising the way they're set up.
Last week I made the unusual decision to compare 2 Broke Girls to Shakespeare in its uneven, if heartwarming initial courtships between Max and Johnny, and I feel that decision may have come back to bite me. What goes up, must come down, and I suspect good reason behind the fact that while last week Kat Dennings herself tweeted her excitement for 'And Hoarder Culture,'no such buzz surrounded 'And the Really Petty Cash.'Without realizing it, I kept scribbling 'took a (adjective) turn'in my notes, by the end realizing 'Really Petty Cash'had spun itself about, ending up messier than the cupcakes Max and Caroline drunkenly spread all over one another (and no, that's not as appealing as it sounds.)
The problem lies in the inconsistency of tone and character, as right from the outset a customer's birthday triggers an expectedly unenthusiastic song from Max, and an over-the-top Christina Aguilera-style embellishment from Caroline. It's a small moment to be sure, but 'Really Petty Cash'feels littered with these broader sitcom-y moments that contradict more level-headed behavior we've seen in episodes past.
'Really Petty Cash'looks to create a deeper conversation by forcing Max back into the situation with Johnny's girlfriend Cashandra and examining the way modern people attempt to turn off their feelings like a light switch, but ends up as drunkenly incoherent as Max herself. Even Nick, who previously seemed a much more levelheaded love interest bounces back and forth between actual humanity, and voraciously eating Kat Dennings'face*.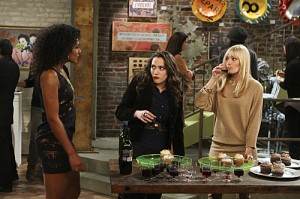 Then arrives a deeper issue that's never truly explored, the manner that Max becomes increasingly inebriated in her efforts to cope. You'd think that such behavior from her and Caroline under the watchful eye of a shrewd host at one of their most important cupcake gigs to date might have consequences the next morning, but we're not privy to any of the fallout, and even Johnny himself disappears from the proceedings midway through. Twenty-something single folk in New York certainly aren't strangers to booze washing away such in-your-face heartache, but it never feels like 'Really Petty Cash'wants to actually deal with the character's emotional state, rather skirting around the adult questions as deftly as it sneaks sex jokes into its writing.
By the end our audience feels just as rattled and unaware as the unconscious and hung over Max herself, with no real resolution to any of the inherent problems created by the episode's plot. Some New York mornings will always be a hangover, sullied clothes and destroyed memorabilia. But we don't have the luxury of writers to give them meaning.
Watching Bored to Death earlier it occurred to me that some sitcoms will coast by on the charm of their leads, but 'And the Really Petty Cash'doesn't share that luxury. Max's grief response to her admitted feelings for Johnny feel real enough to give Kat Dennings a pass, but the meddlesome and broad Caroline paints a far different picture from the competent businesswoman we've seen from Beth Behrs more recently. The show does place continued effort into making its side characters more than racial stereotypes, but otherwise this felt like a step backwards.
The thousand monkeys in a room eventually produced Shakespeare, but we never knew what they came out with the following week.
And Another Thing…
Admittedly, how could you stand in the vicinity of Kat Dennings'chest ,and not want to eat her face?
Feels like we were hitting the objectification a little too much tonight, with the cleavage grading and lesbian implications. Yes, this comment after my adoration of Kat Dennings'glorious chest.
Was the 'flip a switch to make a car bounce'joke dirtier than I'm seeing on the surface?
'The Gay Marvins'is an awesome name for a band. A band that's very comfortable with itself.
Between this and How I Met Your Mother's 'Tick Tick Tick,'lots of cheating stories on CBS tonight. Someone in scheduling is mad at his girlfriend.
I hadn't noticed it last week, but Cashandra (Marsha Thomasan) was Naomi from LOST!
So…Johnny painted the kissing image on a billboard, then recreated it in a smaller size…out of newspaper?
I just got the title's double meaning! Clever girls.
What did YOU think?