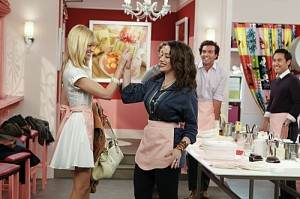 In this week's episode of 2 Broke Girls, Caroline tried to get Max to understand the importance of vision boards and pursuing your dream. But Max was too intimidated to push her cupcake business on Pearl, who needed help catering the desserts for her twins' birthday party.
When Caroline proved herself a terrific saleslady, Max found the strength to try. Max also started flirting with Johnny but the whole situation turned awkward.
In the October 31 episode of 2 Broke Girls, Caroline and Max sign up for a cake-decorating class to help their cupcake business. Naturally, the class turns messy when the two girls arrive.
Nick Zano will be making another guest appearance as Johnny.