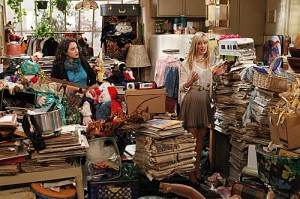 Last week, 2 Broke Girls' Max and Caroline signed up for a cupcake decorating class after getting some feedback that their cupcakes weren't pretty enough. Both of them were frustrated by the class – especially the two stereotypical female Italian teachers. In the end, Max got so fed up she ended up doing cupcakes with brush-off phrases like "Screw U", and Caroline decided that their cupcakes should go the "insult" route instead of the "pretty" route.
In tonight's new episode of 2 Broke Girls, Caroline decides to take on a few freelancing gigs. One of them is as a professional organizer, but she is horrified when she learns that her newest client is a serious hoarder. Caroline wants to run from the job, but Max seems to be having too much fun making fun of the hoader and his crazy apartment. Meanwhile, Max learns that Johnny has been keeping a secret from her.
Watch a sneak peek below from tonight's episode of 2 Broke Girls.