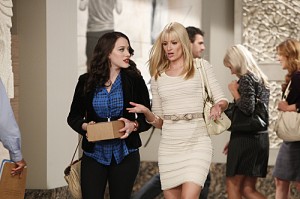 Max and Caroline visited Caroline's father in last week's season premiere of 2 Broke Girls.  As the Channing family estate auction approached, Martin Channing asked his daughter to stop by for a visit to ask them for a favor.  He wanted Max to take Caroline to the auction so they could bid on a special object: a cup Caroline won jumping with Chester.  Caroline was hesitant to spend their cupcake money, but Martin was insistent.
Max thought Martin had hidden money inside the cup and the girls successfully purchased the item, only to find it empty.  It turns out that Martin just wanted Caroline to have something from her childhood and he hopes that she can forgiven him one day.
In tonight's new episode, Max and Caroline are eagerly awaiting word from Martha Stewart, who tasted one of their cupcakes in last season's finale. Will she pull through and help the girls launch their business?
Watch a sneak peek below for tonight's new episode of 2 Broke Girls, airing at 9:00 p.m. ET/PT on CBS.