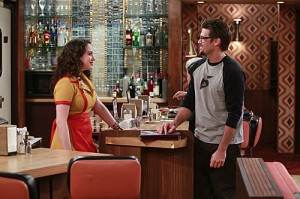 Last week's 2 Broke Girls featured Caroline and Max cleaning out a hoarder's apartment to earn some extra cash (read Kevin's review here). Max's pseudo-relationship with Johnny also got pretty confusing. He drew a photo of them kissing on a billboard and admitted that he liked her, but he's also still in a relationship with his girlfriend, which makes things very complicated.
In tonight's episode of 2 Broke Girls, while Caroline is preparing to send out emails for their cupcake business, she gets worried when Max isn't displaying her characteristic snarkiness. Caroline is worried that Max is depressed about the whole Johnny situation, since he seems to just want to be friends with her right now. Her advice is for Max to "take to the bed", but Max shoots down that suggestion. After all, only rich people can afford to "take to their beds" when the going gets tough.
The situation gets even more uncomfortable when Johnny's girlfriend decides to hire Max and Caroline to provide the cupcakes for for an art showing of Johnny's work. But it appears that the jealous girlfriend isn't trying to reach out to her rival for Johnny's affections and has a much more devious plan in mind.
Watch a sneak peek below for tonight's episode of 2 Broke Girls.