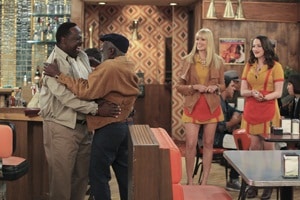 In what may/may not be satire about the banking system (depending on how clever the show actually is), Caroline and Max get pre-approved for a credit card in tonight's all new episode of 2 Broke Girls, which was pushed back a week when CBS canceled original programming last week because of Hurricane Sandy.
Once their initial jubilation – and incredulity – about getting a credit card has worn off, the girls discover that they have vastly different ideas about what they should charge to the card, leading to a big fight between the two of them.
Meanwhile, Cedric The Entertainer guest stars as Earl's estranged son who shows up in New York City in hopes of becoming a comedian.
Watch a sneak peek below for tonight's all new episode of 2 Broke Girls airing at 9:00 p.m. ET/PT on CBS.