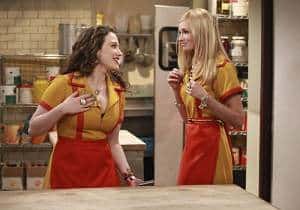 Sex and the City executive producer Michael Patrick King is the creator of 2 Broke Girls, along with comedienne Whitney Cummings. 2 Broke Girls is the story of Max and Caroline. Max (played by Kat Dennings), works two jobs. One of them is as a waitress at the retro-hip Williamsburg Diner. Caroline (played by Beth Behrs) couldn't be more different. She's a former trust-fund princess whose family lost their money, so she's now forced to work and heads to the Williamsburg Diner to find a job.
Of course, the whole situation is a recipe for disaster, especially when tough Max thinks that Caroline is a useless spoiled princess. As the girls work together, Max becomes impressed by Caroline's substance. But Max is hiding a talent: she's an incredible cupcake baker. When Caroline learns about this skill, she thinks they can start a successful business together, but only if they can raise the cash for it. They continue working at the diner to save up their cash and have to deal with the usual cast of secondary characters: Han Lee, the new owner of the diner, Earl, the 75 year old cashier, and Oleg, the Russian cook.
Below is a trailer and sneak peeks for this new series.
2 Broke Girls premieres tonight (Monday, September 19) at 9:30 p.m. ET on CBS. On September 26, it moves to its regular time at 8:30 p.m. ET.