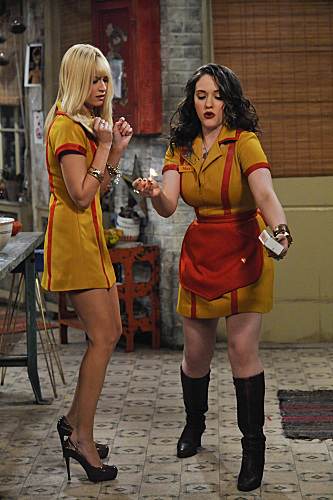 2 Broke Girls pops out its latest "And the Pop-Up Sale" from its freshman season, which sees Max (Kat Dennings) and Caroline (Beth Behrs) looking to sell off some of Caroline's old jewelry in order to afford a new oven for their apartment. "And the Pop-Up Sale" offers up an improvement from last week, even if it isn't going the extra mile just yet.
For 2 Broke Girls last effort 'And the Reality Check,'I laid some harsh criticisms on the nature of the series and the audience it writes for as well, not counting myself among those who would relate to its particular brand of humor. I don't know that I'll ever relate to the trials of 2 Broke Girls living in the big city, even as 1 broke boy, but nor would I expect the writers of the show to sit in their dimly lit rooms hunched over a computer, wringing their gloved hands in malice that I fail to appreciate the humorous relationship dynamics they've crafted.
Whereas last week the Reality TV and rich girl humor was lost on me, this week we find shopping humor* whizzing by my oversized head, particularly concepts I've never encountered. For instance, do pop-up sales actually exist, where people might spontaneously (and illegally) set up shop to undercut the stores wherein they're located? Does the purchase and re-sale of jewelery really elicit such headaches? I'm not asking for snark, I genuinely lack the understanding of human shopping culture that drives the plot of Caroline seeking to replace Max's dilapidated oven.
(*) Jewelery might be lost on me, but I can certainly understand Max's burning desire for a top-model oven and the allure of modern appliances at large. You'd never know it in your youth, but one day you'll suddenly discover that EVERYTHING at Bed, Bath and Beyond is completely awesome, and can be rationalized use for (nervously eyes George Foreman grill still sitting in its box one year later).
There are things that work about 2 Broke Girls, and things that don't. Obviously all critics are quick to level racism allegations at the series stemming from its inception, the way Oleg and Han provide such painfully exaggerated stereotypes of foreigners, but 'And the Pop-Up Sale" actually accomplished something intriguing by pitting the two against one another to call attention to their respective personalities.
It gave the pair more to do than obliterate the soul of wit with tired pigeonholing, and for a moment seemed like an honest attempt to humanize the characters. Then an elevator door opened, and a gaggle of gold-hungry Arabic stereotypes flooded the room. Ugh.
The other pleasure I find in 2 Broke Girls lies in the character of Caroline herself, who continues to display strength beyond that of a stereotypical rich girl, even if I wished to see more of her inner anguish at the circumstance. There exists powerful drama in seeing someone of privilege reduced to squalor, and so far 2 Broke Girls has largely shied away from delving into it. We saw brief flashes of that anguish in Caroline's efforts to dissociate herself from selling her rings in the bathroom, but don't have much of a chance to press the issue beyond her brief (and sincere) apology to Max.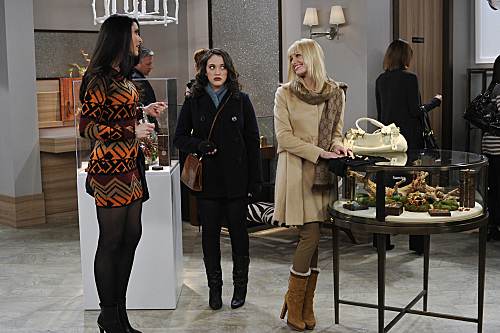 For the second episode in a row now Max finds herself confronted with the issue of attachment, and potentially saying goodbye, which the episode handles far better than 'And the Reality Chick.'Granted she was acting opposite a horse then, but I found the Kat Denning's performance of the reconciliation between Max and Caroline to be much more fulfilling this time around, and illustrative of the bond they've formed these last few episodes. Caroline still has her past looming over, and Max has her abandonment issues, and I'd go as far to say that 'And the Pop-Up Sale'provides a fitting summation / jumping off point until 2 Broke Girls returns from winter hiatus.
Perhaps then we can look forward to the re-introduction of some of the series'larger threads, like Johnny (hopefully at a reserved pace this time), or the cupcake business, which still hasn't seen either an influx or reduction of income to date.
And Another Thing…
Is it me, or is the basic formula of 2 Broke Girl's snappy joke to tack on a pop culture reference at the end of any normal statement? I counted Fast and the Furious, Lord of the Rings, A Beautiful Mind, Ratatouille…
I marginally enjoyed the diner meeting scene, and the staff's pride in their horrible comment cards, but does the diner really run on only four employees? Haven't we seen extras working around the set?
'I am like David Blaine of zippers.'
One could raise issue with the fact that the Oleg / Han conflict peters out without any real resolution, but really, what couldn't Kat Dennings'chest fix?
I imagine the casting sheet for Caroline's bitter Jewelery Store acquaintance read 'Seeking actor who resembles / acts like/ or is Stanley Tucci from The Devil Wears Prada.
What did YOU think?