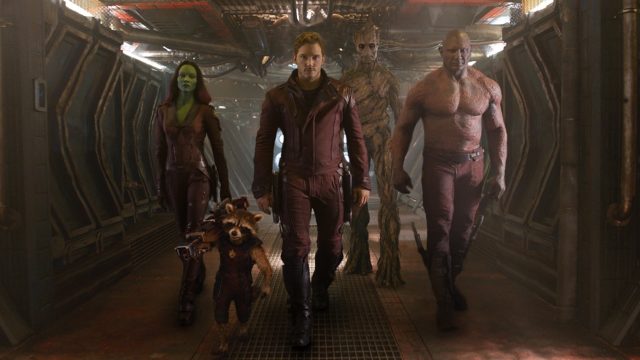 The closer we get to the debut of Guardians of the Galaxy Vol. 2, the more footage we're going to see and the more nostalgia we're going to get for the first film.  At this point in the game we already know that Chris Pratt's status as the funny, lovable, Andy Dwyer completely transformed into mega movie star after this film.  We know that Baby Groot wasn't featured nearly enough in the first film.   We know that Dave Bautista took 5 hours a day to get his makeup put on and taken off.   But there's so much more out there.
I'm not sure why but Dave Bautista really got picked on during the first film.  The crew actually played a prank on Bautista during the dance-off scene where Ronan was to accept a challenge (It's on!) and dance, at which point Bautista had to improvise his own dance.  It was so good that James Gunn made it a bonus feature on the Blu-Ray DVD.
Folks, that's just one interesting fact in this bunch of 20.  If you're interested in learning even more about Guardians of the Galaxy then you might want to take a look below.  We've get a fresh new batch of new facts for ya.
Enjoy!