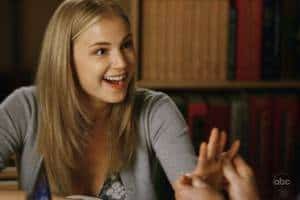 Brothers and Sisters kicks off its fourth season beginning on Sunday, September 27 and ABC has just released some details about the new season as well as some promotional photos from the first episode.
The Walkers went through a great deal last season, as we saw more dinners, more fights, and more wine drinking. So basically Kitty and Robert are on the ropes and headed to divorce after Kitty's almost infidelity and Robert's inability to realize that he just had a heart-attack and might not need to be thinking about running for governor at the moment. Oh, and they had their adopted surrogate baby in the middle of all of that.
Sarah floundered around a bit in the beginning of last season but finally found her place helping two young dudes develop a start-up company that became a success, but in the end her heart was with Ojai Foods and she ended up back at the company to challenge Holly and make it a family business again. No thanks to Tommy who broke the law trying to steal the company out from under Holly and almost went to jail for it. Instead he decided to abandon his family and run to Mexico where his family (mostly Nora) felt the need to chase after him, only to find that he's doing pretty good and "finding himself" in the process.
Justin on the otherhand had his ups and downs all season with Rebecca, who was almost and sorta romantically involved with new sybling Ryan. But that didn't last long once she saw what Ryan was really up to, revenge on the Walkers. Justin ended up getting accepted in medical school and proposing to Rebecca by the end of the season. Holly was not too happy about the sudden leap toward marriage.
Kevin, meanwhile, was fired from being the Ojai legal council and ended up taking a job with Robert. Despite his growing friendship with Robert he found it very difficult playing the middleman between Robert and Kitty, espeically as their marriage deteriorated, but he did see some happiness last season as he finally got married to Scotty, one of the sanest characters on the show.
Finally Nora…well, other than starting a charity and falling in love with a married man who was allowed to date other women (yeah, crazy) she basically just stuck her nose in all of the other stuff mentioned above. So, consider yourself all caught up. While it might not cover everything that recap hopefully revived your own memories from last season. If you're new to this show try checking out the video at the bottom of the press release for a Brothers and Sisters 101 course from ABC.
PRESS RELEASE – ENTERTAINMENT – ON THE SEASON PREMIERE OF ABC'S BROTHERS & SISTERS (9/27)
SEASON PREMIERE

NORA AND HOLLY TEAM UP TO PLAN A JOYFUL
CELEBRATION FOR REBECCA AND JUSTIN'S ENGAGEMENT,
ON THE SEASON PREMIERE OF ABC'S "BROTHERS & SISTERS"

"The Road Ahead" – Kitty harbors a devastating secret that will rock the Walker family. Meanwhile, Nora and Holly begrudgingly team up to throw an elaborate engagement party for Justin and Rebecca, Tommy continues his personal spiritual journey in Mexico, and Sarah searches for new business prospects in France, on the fourth-season premiere of "Brothers & Sisters," SUNDAY, SEPT. 27 (10:01-11:00 p.m., ET) on the ABC Television Network.

"Brothers & Sisters" stars Dave Annable as Justin Walker, Maxwell Perry Cotton as Cooper Whedon, Kerris Lilla Dorsey as Paige, Sally Field as Nora Holden, Calista Flockhart as Kitty Walker, Balthazar Getty as Thomas Walker, Rachel Griffiths as Sarah Walker, Luke Macfarlane as Scotty Wandell, Rob Lowe as Senator Robert McCallister, Matthew Rhys as Kevin Walker, Ron Rifkin as Saul Holden, Emily VanCamp as Rebecca Harper and Patricia Wettig as Holly Harper.

Guest starring are Ken Olin as David Caplan, Marion Ross as Ida Holden, Matt Gallant as the reporter, Phil Abrams as Harold Wallace, Jeff Lorch as Jeffrey, Cheryl Francis Harrington as Dr. Ruth Gibson, Matthew Kimbrough as Professor James Gray, Amy Aquino as Dr. Avadon, Alex Ball as Steve and Henry Dittman as date #3.

"The Road Ahead" was written by Molly Newman and Marjorie David and directed by Ken Olin.

"Brothers & Sisters" is broadcast in 720 Progressive (720P), ABC's selected HDTV format, with 5.1-channel surround sound and Spanish subtitles via secondary closed captioning. A TV parental guideline will be posted closer to airdate.

For more information on "Brothers & Sisters," visit ABC.com.