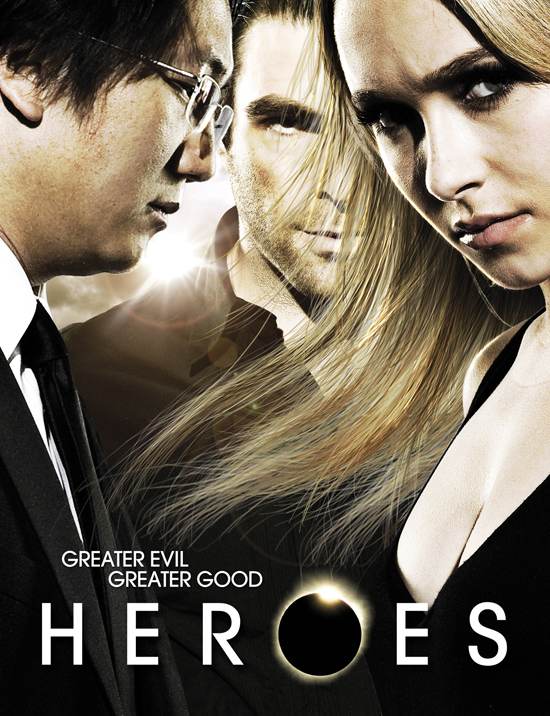 Premieres on Monday, Sept. 21 (8/7c) on NBC
Heroes has been in a downward spiral for about two years now. It's sad, but it's also very true. There was a glimmer of hope with Bryan Fuller's return to "Fugitives," but he quickly left the show early in the production of season four, which is set to premiere next month.
We last left Heroes in a peculiar spot — Nathan had just been killed by bad-again Sylar. However, because the show just refuses to get rid of any main cast members, Nathan's mother Angela convinced Matt Parkman to transform Sylar into Nathan, effectively killing Sylar but keeping Nathan alive. However, it wasn't long (maybe five minutes) before bits of Sylar's consciousness began to show through the new Nathan. Meanwhile, Tracy Strauss (another example of the show's inability to lose cast members) returned as a water-controlling murderess who took revenge of all those who held her captive in Building 26.
Hiro, meanwhile, after having his previously lost powers partially restored by "Touch and Go Baby" Parkman, began to experience devastating effects from trying to use his power, and the season ended with things still looking really bleak for him.
Season four promises to continue these storylines and add several new ones. The most notable addition to the story will be that of the travelling carnival headed by Samuel (the ever creepy Robert Knepper), and though it looks like a rip-off of Carnivale looks to be one of the better parts of the season.
Some more things to look forward to: a lesbian kiss from Claire, the return of Hiro's lost love Charlie, and another company. Heroes will return on September 21 with two new episodes, "Orientation," and "Jump, Push, Fall." As NBC puts it:

From creator/writer Tim Kring ("Crossing Jordan") comes the award-winning "Heroes," an epic drama that chronicles the lives of ordinary people who discover they possess extraordinary abilities.

On September 21, "Heroes" returns with its fourth season and a brand-new volume — "Redemption." As the dust settles from last season, our heroes attempt to settle back into their ordinary lives. But, as they will quickly discover, it's not easy to go home again. They will face one pressing question: how do extraordinary people lead ordinary lives?

Previously, in "Volume 4: Fugitives," our heroes made an attempt to return to their normal lives — but that attempt was cut short when Claire Bennet (Hayden Panettiere) uncovered a deadly plot orchestrated by one of their own — Senator Nathan Petrelli (Adrian Pasdar). After revealing to the government that there were people with special abilities, Nathan spearheaded an initiative to capture and imprison those people and used Noah Bennet a.k.a. H.R.G. (Jack Coleman). Lives were torn apart. H.R.G.'s own marriage was destroyed. Tracy Strauss (Ali Larter) was killed – literally shattered into frozen pieces.

Ultimately, it was Nathan who paid the price for his misdeeds — murdered at the hands of Sylar (Zachary Quinto). Angela Petrelli (Cristine Rose), devastated at the loss of her son, and H.R.G., in need of an ally within the government, convinced Matt Parkman (Greg Grunberg) to use his ability to repair the damage. Matt used mind control and forced Sylar to shapeshift into Nathan, while erasing Sylar's own memories so he truly believed he was Nathan. Now, as far as everyone else knows, Nathan is alive and well. And Sylar is gone. But all of that is about to change…

This season, "Volume 5: Redemption" begins with our heroes putting their lives back together.

Claire is finding that her biggest challenges are forgetting her old life and starting college. How does someone who has led such an extraordinary life assimilate back into everyday college life? Any semblance of normalcy is shortly overturned when Claire's roommate commits suicide and Claire discovers her new friend, Gretchen (guest star Madeline Zima), is hiding a secret herself.

Hiro Nakamura (Masi Oka) goes back to his old life in Japan, but discovers that he has a terminal illness. When Hiro can no longer keep his illness hidden, he sets out to fulfill his own personal bucket-list — righting the mistakes of his past. But will Hiro be able to correct the errors of his ways without severely altering the past and present?

Peter Petrelli (Milo Ventimiglia) returns to work as an ordinary New York City EMT, but he uses his abilities to save lives. Peter has become obsessed, looking for redemption and shutting out the rest of the world he once knew. How can he forget the past and begin anew? Peter's life will quickly change when a hearing impaired woman, Emma (guest star Deanne Bray), enters his life. Emma has used her disability as an excuse to shut herself off from the world. But as a new and unique ability manifests, the shell she's built around herself will begin to crack apart — as will Peter's.

H.R.G. is adjusting to life as a single man. Charged with creating a new company, he is rapidly discovering that he needs more from his life. But how does a company man become ordinary? And, when Mohinder Suresh (Sendhil Ramamurthy) returns and offers H.R.G. compelling evidence of a new danger, it makes H.R.G. wonder if he should get back in the game.

Tracy Strauss, having risen from the dead, is consumed with seeking vengeance, but soon realizes that she has a real opportunity to reinvent herself. The question is: who should she be?

Nathan Petrelli, not realizing who he really is, returns to the Senate and begins to notice strange changes in himself. Most alarming, Nathan discovers that he has new abilities. These changes are not lost on Angela, who recognizes them for what they truly are — the emergence of Sylar.

Meanwhile, racked by the guilt of what he did to Sylar and Nathan, Matt Parkman returns to life as an ordinary family man. All he wants to do is to raise his son, love his wife and return to a fulfilling career as an LAPD detective. But what Matt doesn't know is that something unfamiliar is buried deep within his psyche — Matt can see and hear Sylar. And this specter will haunt him until Sylar is returned to his body.

The biggest challenge for our heroes is a strange and dangerous carnival comprised of a traveling band of outsiders with powerful abilities, led by a charismatic and powerful leader, Samuel (Robert Knepper). Alongside Samuel is his right hand man, Edgar (guest star Ray Park), a deadly Speedster with a talent for knives, and Lydia (guest star Dawn Olivieri) the Tattooed Lady.

Samuel leads his flock to intersect with the lives of all of our heroes. He will find them, and he will entice them to join him. And together, they will ask the same basic questions: Who are we? What does having powers mean to the world? How should we live our lives — shameful or proud? Should we hide or live out in the open? And if the world of powers is revealed, how will the world ever recover?

In 2009, "Heroes" has been honored with: a People's Choice Award for Favorite Sci-Fi/Fantasy Show, a Teen Choice Award for Choice Action-Adventure Television Show, and a SAG Award for Outstanding Performance by a Stunt Ensemble in a Television Series. Among its honors in past seasons, "Heroes" has garnered a People's Choice Award, an AFI Award, a Multicultural Prism Award, a TV Land Future Classic Award, the Television Critics Association Awards' Outstanding Program of the Year, the International Prize at the BAFTA Television Awards, and Choice TV Show Action Adventure at the Teen Choice Awards. It has also garnered nominations at the Primetime Emmy, Golden Globe, NAACP Image, WGA and Satellite Awards.

"Heroes" is produced by Universal Media Studios in association with Tailwind Productions. Kring, Dennis Hammer, Adam Armus, Kay Foster and Jim Chory serve as executive producers.