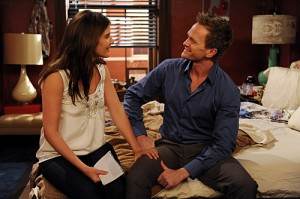 Premieres Monday, Sept. 21 (8:00-8:30 PM, ET/PT) on CBS
How I Met Your Mother is a rare gem amongst the comedy fodder on television today, giving us a serialized (of sorts) sitcom. All television shows have characters who grow and change over time, and who's relationships we come to know like the ones we have with our own friends. But How I Met Your Mother has found a way to slowly grow their brand of comedy, giving us small pieces of their lives each season and truly allowing us to grow in their friendship with them. Essentially, instead of watching the show and thinking of found memories we have with our own friends, HIMYM has a way of making us feel like the characters are our friends too, and their inside jokes are our inside jokes, as we journey down this road to discover how Ted met the future mother of his children.
Last season ended with Barney and Robin carrying on an affair that none of the others knew about. Knowing Barney's past indiscretions this isn't that strange, however as the season drew to an end it became clear that Barney was developing feelings for Robin, something that he has probably never experienced in his entire life. Season Five promises to pick up where they left off with Ted and the gang learning about Barney and Robin's secret and Barney himself having to come to terms with what his feelings mean for him, and for Robin.
Below is the official description from CBS.
THE GANG FINDS OUT THAT ROBIN AND BARNEY ARE CARRYING ON A SECRET ROMANCE, ON THE FIFTH SEASON PREMIERE OF "HOW I MET YOUR MOTHER," MONDAY, SEPT. 21

"Definitions" – When the gang finds out that Barney and Robin are hesitant to define their relationship, Lily forces them to confront their biggest fear…becoming boyfriend/girlfriend. Meanwhile, Ted is anxious about teaching his first lecture at Columbia, on the fifth season premiere of HOW I MET YOUR MOTHER, Monday, Sept. 21 (8:00-8:30 PM, ET/PT) on the CBS Television Network.

SERIES REGULARS:

Ted………………………………………. Josh Radnor

Marshall…………………………………. Jason Segel

Barney………………………….. Neil Patrick Harris

Lily…………………………………. Alyson Hannigan

Robin ………………………………. Cobie Smulders

RECURRING CAST

Narrator…………………………………… Bob Saget

GUEST CAST:

Brad………………………………… Joe Manganiello

Professor Calzonetti…………Dale E. Turner

Girl #2………………………..Laura Ornelas

Guy #2……………………………………. Abhi Sinha

Girl…………………………..Kim Matula

Guy…………………………Brett Ryback

Student……………………Michael Busch

WRITTEN BY: Carter Bays and Craig Thomas

Source: CBS