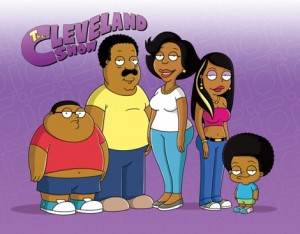 From Seth McFarlane comes Family Guy spin-off The Cleveland Show, following the adventures of Cleveland Brown as he leaves Quahog for the fictional town of Stoolbend, Virginia. Cleveland reunites with and quickly marries his high-school sweetheart, Donna, who has two kids — rebellious teenager Roberta and ladies-man Rallo, who also happens to be just five-years-old. With morbidly obese son Cleveland Jnr joining this rather odd family, hilarity is always just around the corner.
Network: FOX
Premiere date: September 27, 2009 (8.30pm ET)
Cast: Mike Henry, Sanaa Lathan, Reagan Gomez-Preston, Kevin Michael Richardson and Seth McFarlane
What the Network Says:
Everyone's favorite soft-spoken neighbor CLEVELAND BROWN moves to his hometown in Virginia with his 14-year old son, CLEVELAND JR. Many years ago, Cleveland was a high school student madly in love with a beautiful girl named DONNA. Much to his dismay, his love went unrequited, and Donna wound up marrying another man. Cleveland once told Donna he would always love her, and if this man ever done her wrong, he'd be there when she called. Well, this man done her wrong.

Donna's husband ran off, leaving Donna with a teenaged daughter and young son. Now she's open to Cleveland and offered him another chance at love. Unattached after the Loretta-Quagmire debacle and true to his word, Cleveland joyously unites with Donna, and he and CLEVELAND JR. move to Virginia to join their new family — a rebellious new stepdaughter, ROBERTA, a 5-year old stepson who loves the ladies, RALLO, and a collection of neighbors that includes a loudmouth redneck, LESTER, a hipster wanna-be, HOLT, and a family of talking bears: TIM and his wife ARIANNA.
What We Think:
I will admit that, having heard that Cleveland Brown was getting a spin-off, my first reaction was, 'Why him?'In Family Guy, he never seemed a character who was particularly interesting, and I could not see how he could carry his own show. And what about his never-before-seen family? Could they live up to the laugh-a-minute standard set by the parent show, Family Guy?
Having seen the trailer below, I think I've been convinced. The one component required by a comedy is that it needs to be funny. Above all else, it has to make me laugh. And this trailer had that particular effect, quite a lot, with a rather clever, topical and essentially cruel Jennifer Aniston gag being the pick of the bunch. They seem to have developed Cleveland into a more interesting character with the discovery of his high-school sweetheart, Donna, while his son Cleveland Jnr seems like he will provide comic potential, provided the creators avoid numerous stereotypical fat jokes. Similarly, Roberta's rebelliousness (I'm sure every dad can empathise with their daughters not wanting to be seen with them) can be very funny, provided it's not overdone. Rallo, the five-year-old son, was my personal favourite of all the new characters — not particularly surprising given that Stewie (the one-year-old talking baby) is my favourite Family Guy character. Throw in a couple of talking bears as well, and one can begin to see a very funny comedy beginning to form.
In conclusion — if you are a fan of Family Guy, watch this. McFarlane's unique humour has become his trademark, as has his propensity to offend. But if you are a fan of laughing until your sides hurt for twenty-odd minutes, this may be a good choice come the Fall.
Watch the trailer and decide for yourself.
[youtube]http://www.youtube.com/watch?v=sT-sNBKpDEo[/youtube]
Check out the Fall Calendar for a full list of premiere dates.