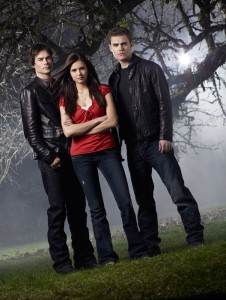 THE VAMPIRE DIARIES
Network: The CW
Premiere Date: Thursday, September 10 at 8:00 p.m. E.T.
Cast: Ian Somerhalder, Nina Dobrev, Paul Wesley, Steven R. McQueen, Sara Canning, Candice Accola and Katerina Graham.
Synopsis (from The CW):
Four months after the tragic car accident that killed their parents, 17-year-old Elena Gilbert (Nina Dobrev, "DeGrassi: The Next Generation") and her 15-year-old brother, Jeremy (Steven R. McQueen, "Everwood"), are still adjusting to their new reality. Elena has always been the star student; beautiful, popular and involved with school and friends, but now she finds herself struggling to hide her grief from the world. Elena and Jeremy are now living with their cool-but-overwhelmed Aunt Jenna (Sara Canning, "Smallville"), who is doing her best to be a surrogate parent.
Elena manages to find some comfort with her familiar social circle — best friend Bonnie (Katerina Graham, "17 Again"), frenemy Caroline (Candice Accola, "Juno"), and former boyfriend Matt (Zach Roerig, "Friday Night Lights"), but Jeremy is on a more dangerous path, hanging out with the stoners and using drugs to hide his pain. Jeremy is also trying to figure out why Matt's sister, Vicki (Kayla Ewell, "The Bold and The Beautiful"), is suddenly rejecting him and hanging out with Jeremy's rival, Tyler (Michael Trevino, "Cane").
As the school year begins at Mystic Falls High, Elena and her friends are fascinated by a handsome and mysterious new student, Stefan Salvatore (Paul Wesley, "Fallen"). Stefan and Elena are immediately drawn to one another, although Elena is puzzled by Stefan's increasingly bizarre behavior when he appears suddenly at the cemetery where her parents are buried. What she doesn't realize is that Stefan is hiding a dark, deadly secret of his own — the fact that he's a vampire. At a bonfire party the next night, Elena and Stefan are just getting to know each other when chaos erupts after Vicki is attacked and left bleeding from a savage bite to the neck.
Fearing that he knows who is responsible for the attack, Stefan returns home and finds his older brother, Damon (Ian Somerhalder, "Lost"), whom he hasn't seen for 15 years. Damon is also a vampire, and the two brothers have a long and bitter history. Damon ridicules Stefan for rejecting their legacy of violence and brutality, but he understands his brother's obsession with Elena, since she looks exactly like a woman Stefan loved more than a century ago; a woman that Damon tried to make his own. Now these two vampire brothers — one good, one evil — are at war for Elena's soul and for the souls of her friends, family and all the residents of Mystic Falls, Virginia.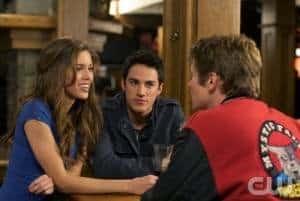 Based on the series of books by L. J. Smith, THE VAMPIRE DIARIES is from Alloy Entertainment and Bonanza Productions Inc in association with Warner Bros. Television and CBS Television Studios with executive producers Kevin Williamson ("Scream," "Dawson's Creek"), Julie Plec ("Kyle XY," "Wasteland"), Leslie Morgenstein ("Gossip Girl," "Private") and Bob Levy ("Gossip Girl," "Privileged"). Marcos Siega ("Dexter") directed the pilot.
What We Say: If I had to compare The Vampire Diaries to other recent vampire-focused dramas I would say that it's definitely better than Twilight (sorry, Twi-hards), but not as awesome as the gory and graphic True Blood. The pilot is fairly formulaic – the pretty, somewhat tortured, young girl falls in love with the mysterious, handsome and brooding stranger. The story will appeal to teenage girls who can't get enough of vampire love stories.
Ian Somerhalder plays a pretty good villain on the show. He's very cute and has that typical evil-guy smirk. Paul Wesley plays the regretful Stefan to a T. He's not a surly-looking as Robert Pattinson in Twilight, but he's got remorse stamped all over his face. Nina Dobrev, who plays the main character Elena, is really the weakest link in the cast but I have hopes that she might grow more of a backbone and start playing a stronger female lead. The look of the show works best when it's shot at night.
Basically, if you're a young girl you're probably going to like this show. If you're not into vampire-human romance then you likely won't bother to watch. But The CW's primary target is young women, so they may have a hit on their hands after all. If you don't mind spoilers, you can read a full review of the pilot episode here. Keep in mind, though, that was written by a guy.