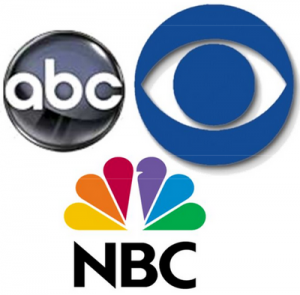 The good folks over at EW.com have gathered together lists of all of the 2010-2011 season pilot orders for ABC, CBS and NBC. Just between these three networks, 31 dramas and 29 comedies will be given a shot to make the schedule this fall. There is a great mix of shows among the orders: from traditional multi-camera comedies to big-name-producer dramas. Remember, not all of these will be picked up, so you'll have to tune in to the networks' announcements in May to see which of these make the final cut. Take a look below at what each of the networks will be possibly serving up for your viewing pleasure, and let us know in the comments section what tickles your fancy.
UPDATE: The pilots ordered by Fox and The CW have been added to the end of this article.
First up, the American Broadcasting Corporation:
Dramas

187 Detroit (writer Jason Richman). A light-hearted look at Detroit's top homicide division.

Body of Evidence (Chris Murphey). A procedural about a female medical examiner who used to work as a neurosurgeon.

Cutthroat (Michele Fazekas and Tara Butters). A dramedy about a single mother who operates an international drug cartel from Beverly Hills.

Edgar Floats(Rand Ravich). A police psychologist becomes a bounty hunter.

Generation Y (Noah Hawley). A documentary-style dramedy that tracks a group of former high school classmates over the last decade.

Matadors (Jack Orman). A drama focusing on two long-feuding families in Chicago that stars David Strathairn (The Bourne Ultimatum).

No Ordinary Family (Jon Feldman, Greg Berlanti). A family of superheroes that stars Michael Chiklis (The Shield).

Off the Map (Jenna Bans, Shonda Rhimes, Betsy Beers). Shot in Puerto Rico, the drama focuses on three doctors who leave the mainland to work at an isolated tropical clinic.

The Whole Truth (Tom Donaghy, Jerry Bruckheimer, Jonathan Littman). Legal drama that provides perspective from the defendant/prosecution prosecution perspective until a verdict is reached.

True Blue (Jon Feldman and Chris Brancato). Homicide detectives in San Francisco reunite to solve the murder of a former co-worker. Cast includes Poppy Montgomery (Without a Trace).

Untitled Richard Hatem project. Focuses on a (hot) female detective team.

Comedies

Awkward Situations for Men (Jeff Filgo & Jackie Filgo). Inspired by the Danny Wallace book of the same name,the series focuses on a British on-air personality who moves to America and clashes with local customs. Cast includes Wallace and Laura Prepon (That '70s Show).

Freshmen (Greg Malins, Arianna Huffington). A multi-camera sitcom about three first-year members of Congress that stars Sarah Chalke (Scrubs).

Funny in Farsi (Nastaran Dibai, Jeffrey B. Hodes). Based on the novel of the same name by Firoozeh Dumas, which is a memoir of the author's childhood.

Untitled David Caspe Project. A single-camera comedy about a couple who breaks up at the altar while their friends try to keep things copacetic. Cast includes Damon Wayans, Jr. (My Wife and Kids ).

How to Be A Better American (Steven Cragg and Brian Bradley). A single-camera comedy about a father who attempts to improve his life and the lives of his (not-so-amenable) family.

It Takes a Village (Casey Johnson & David Windsor). A single-camera comedy about two exes and their partners who come together to raise a 15-year-old boy.

Mr. Sunshine (Matthew Perry, Alex Barnow, Mark Firek). Perry (Friends)stars as a self-absorbed manager of a sports arena. Cast also includes Allison Janney (The West Wing) and Andrea Anders (Better Off Ted).

Untitled Couples Project (Shana Goldberg-Meehan). A multi-camera sitcom about two sisters in different stages of their romantic relationships. Cast includes Joanna Garcia (Privileged).

Untitled Dana Gould Project.A multi-camera comedy about a high school guidance counselor. Cast includes Gould and Brian Dennehy (Cocoon).

Who Gets the Parents (Joe Port & Joe Wiseman). A multi-camera comedy about three adult siblings who are grappling with their parents'late-in-life divorce.

Women Are Crazy, Men Are Stupid (Howard Morris and Jenny Lee). A multi-camera comedy based on the book of the same name.

Wright Vs. Wrong (Stephanie Weir). A single-camera comedy about a conservative pundit who's very different in private.

Here is what CBS is considering:
Dramas

ATF (Michael Dinner). An ATF agent hunts juggles home life while trying to capture dangerous criminals.

Chaos (Tom Spezialy, Brett Ratner). Ragtag group of CIA operatives ensnared by backstabbing and beaucratic snafus. Stars Freddy Rodriguez (Grindhouse).

Criminal Mindsspinoff (Chris Mundy). New iteration of CBS'successful crime show. Stars Forest Whitaker (The Shield).

Defenders (Carol Mendelsohn, Niels Mueller, Kevin Kennedy). Drama about two hard-charging Sin City attorneys.

Hawaii Five-O (Peter Lenkov, Roberto Orci, Alex Kurtzman). An update of the popular '60s drama about Hawaii State Police that stars Daniel Dae Kim (Lost), Alex O'Loughlin (Moonlight), and Taryn Manning (Sons of Anarchy).

I Witness (Trey Calloway, Pam Veasey). A rollover from 2009, this drama pilot focuses on a detective-cum-professor who uses special mind skills to solve crimes.

Untitled Burgess & Green project (Mitchell Burgess, Robin Green). A family of cops in New York.

The Quinn-Tuplets (Mike Kelley).A drama chronicling the lives of five adult quintuplets. Stars Sam Witwer (Smallville).

The Odds (Jeff Wadlow, Joel Silver) A buddy cop show set in Las Vegas.

Untitled Medical Project (Hannah Shakespeare, John Wells). A drama about a mobile medical team that stars Amy Smart (Crank).

Untitled Redlich/Bellucci Project (Ed Redlich, John Belluci). About a female NYPD detective with a razor-sharp memory.

Comedies

Untitled Ant Hines Project. British deadbeat dad moves to L.A. to reunite with his teenage daughter.

Hitched (Josh Schwartz, Matt Miller). A multi-camera comedy about a newlywed couple and their friends, family. Stars Eugene Levy (Best in Show).

Livin'On a Prayer (Carter Bays, Craig Thomas, Kourtney Kang, Joe Kelly). A multi-camera comedy about an unmarried couple in Pittsburgh and their friends. Stars Joe Manganiello (True Blood).

Mike and Molly (Mark Roberts, Chuck Lorre). A multi-camera comedy about a couple that overeats.

Open Books (Gail Lerner). Centers around a female book editor; stars Laura Benanti (Eli Stone).

Team Spitz (Bill Martin, Mike Schiff). A multi-camera comedy about a high school football coach that stars Rob Riggle (Gary Unmarried).

True Love (Matt Tarses). A multi-camera comedy about four New York friends that stars Minka Kelly (Friday Night Lights) and Ashley Austin Morris (The Electric Company).

Untitled Tad Quill. A multi-camera comedy about a widowed father who's attempting to get back on the (dating) horse.

Last, but certainly not least, the network that needs almost all of these to be hits, NBC:
Dramas

The Event (Nick Wauters) A thriller about a regular Joe caught up in a large conspiracy.

Chase (Jennifer Johnson, Jerry Bruckheimer, Jonathan Littman). An action drama that follows U.S. Marshalls as they track down most-wanted criminals.

Undercovers (JJ Abrams, Josh Reims). A couple is pulled out of retirement to rejoin the CIA.

Love Bites (Cindy Chupack). An hour-long romantic comedy.

Rockford Files (David Shore). A reboot of the '70s private eye drama.

Prime Suspect (Hank Steinberg). A redux of the BBC series of the same name that follows a female detective.

Kindreds (Dave E. Kelley). A drama about an ex-patent lawyer and his group of associates who come together to form an unusual law practice.

Untitled John Eisendrath project. An ex-justice tries to change the law.

The Cape (Tom Wheeler). A former cop who was frame decides to don a superhero uniform to clear his name.

Comedies

Untitled Adam Carolla Project (Jon Pollack, Kevin Hench, Adam Carolla, Jimmy Kimmel). A single-camera comedy starring Carolla as a contractor who attempts to rebuild his life after a divorce.

Perfect Couples (Scott Silveri, Jon Pollack). A single-camera romantic comedy that focuses on three different couples in various stages of total bliss.

Outsourced (Robert Borden, Ken Kwapis). A single-camera office comedy about a novelties company employee who moves to India to manage a group of customer reps.

Friends with Benefits (Scott Neustadtler, Michael H. Weber). A single-camera comedy about five friends who are on the lookout for perfect mates but willing to temporarily settle on friends with benefits.

The Strip (Tom Lennon, Ben Garant). A multi-camera comedy about a former child star who owns a bar outside of Las Vegas.

This Little Piggy (Stephen Cragg, Brian Bradley). A multi-camera family comedy about father of two who opens up his home to his irresponsible sister and shallow brother.

The Pink House (Rick Wiener, Kenny Schwartz). A multi-camera comedy about college graduates who flee Los Angeles to start a life elsewhere.

Beach Lane (Paul Simms). A multi-camera comedy starring Matthew Broderick as a celebrity author hired by a Richie Rich to run a small town newspaper in the Hamptons.

Nathan vs. Nurture (Moses Port, David Guarascio). A multi-camera comedy about a heart surgeon who reunites with his birth father and brothers, many, many years after his adoption.
UPDATE: Click through to the next pages to see the pilots Fox and The CW has ordered.
Five dramas and nine comedies are on Fox's radar:
Dramas

Ride Along (Shawn Ryan). An ensemble cop show that includes a veteran cop and his newbie partner in Chicago.

Midland (Kyle Killen). A Texas-based sudser about a con man with family secrets.

Breakout Kings (Matt Olmstead, Nick Santora). A procedural about marshals who work side-by-side with ex-cons to catch criminals.

Pleading Guilty (Jason Tracey). Based on the Scott Turow book Pleading Guilty, a ragtag trio is hired by a high-powered law firm to locate its top litigator and $5 million of stolen money.

Worthy (Davey Holmes). A drama about an Arizona politician who's been blackmailed by the mob.

Comedies


Nirvana (Jay Saghal). A multi-camera comedy about two Indian brothers and their two very different romances.

Most Likely to Succeed (Dave Walpert). A multi-camera ensemble comedy that checks in with those who were dubbed 'most likely to succeed'20 years ago.

Traffic Light (Bob Fisher). A single-camera comedy based on an Israeli format about three men and their romances.

Keep Hope Alive (Greg Garcia). A single-camera comedy about a simple-minded 20-something man who is raising a daughter. Cast includes Martha Plimpton (Parenthood) and Cloris Leachman (The Women).

The Station (Kevin Napier) A single-camera comedy about a covert CIA operative and his work buddies while embedded in South America. Cast includes Justin Bartha (The Hangover).

Untitled IRS project (Brent Forrester). A multi-camera comedy about IRS auditors. Cast includes David Krumholtz (Numb3rs).

Untitled Adam Goldberg. A single-camera office comedy about man who works for a digital security firm.

Strange Brew (David Kohan, Max Mutchnik). A multi-camera comedy about a family that owns a small brewery.

Bob's Burgers (Jim Dauterive, Loren Bouchard). An animated series about a family who runs a burger joint (the network's already ordered 13 episodes).
Here are the few drama pilots ordered by The CW:
Dramas

Betwixt (writer Elizabeth Chandler). Supernatural drama based on novel of same name about creatures who fight evil forces.

Untitled Amy Holden Jones. Drama focusing on the freshman class at Harvard Medical School.

Hellcats (Kevin Murphy). Action follows competitive college cheerleading.

Nikita (Craig Silverstein). An update of La Femme Nikita.

The Wyoming Project (Amy Sherman-Palladino, Dan Palladino). Family sudser that takes place on a small midwest ranch.

Nomads (Ken Sanzel). Group of free-spirited youths backpacking through other countries agree to perform secret missions for CIA.
So, which of these are you interested in? Anything that sounds just absolutely ridiculous? Drop your comments below. Be sure to check out TVOvermind for the official pilot pick-ups this spring, and for all of your TV needs.