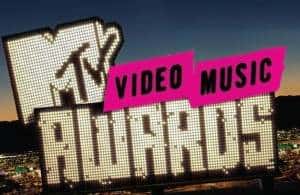 It's that time of year again. The VMAs are about to be unleashed upon us and I will be here to document the craziness live all night. Official start time will be 9:00/8:00c p.m. so be here and be ready. Will Kanye West do something outrageous again? Will Justin Bieber induce some poor girl's heart attack? What in God's name will Lady Gaga be wearing and how many outfits will it take to get the ultimate gasp from us all? What will Chelsea Handler do? And what will I have to say about it? All these questions will be answered and more so stick around for all the fun!
7:58 – Lady Gaga not only rules. She owns. That is all…
7:59 – Just learned that Kanye will close with a new song…
8:00 – We open with Eminem in a basement…
8:02 – Nope. It's the stage. Very nicely done and DAMN the VMAs are doing it BIG this year!!! I'm in love already.
8:05 – Damn, Rihanna tried to channel Madonna's wedding dress look and failed in these eyes.
8:06 – Loved the duet, but hated the dress.
8:08 – Lindsay Lohan!!!!!! YES!!!!! What a trooper!!!!!
8:09 – Chelsea Handler is killing me with this damn Lady Gaga inspired getup!!!!! LMAO at the dove bit!!!
8:14 – Chelsea is killing it. "I want to encourage everyone to be on their WORST behavior!" Thank you, Chelsea.
8:16 – Okay, who wants to bet that was either Kanye West or someone is wishing it was Kanye West in that costume?
8:17 – Best Female Video Goes To…
8:18 – Lady Gaga for "Bad Romance"! (As if we didn't know that…)
8:22 – Lady Gaga just thanked everyone in existence… I loved every minute of it.
8:27 – Jackass 3D cast scares the hell out of me. No, what scares me is people's attraction to the show… Although that was a pretty funny ass clip they showed.
8:29 – Best Rock Video Goes To… Oh God. Get Them Off The Stage…
8:30 – (Thank You) The award goes to 30 Seconds to Mars for "Kings and Queens", which I am about to download right now…
8:32 – Kim Kardashian announces Justin Bieber. Plenty of teen girls are enraged at this honor.
8:35 – Is it safe to say that Justin Bieber is just the New Kids on the Block repackaged into a slimmer case?
8:37 – Nobody has died of Bieber fever yet. The night is still young, however…
8:40 – Ke$ha went for the Gaga look… and came out looking like trash from an alley…
8:41 – I'm glad MTV expanded the stage this year for the gazillion dancers to perform tonight. Otherwise it would've been a complete disaster.
8:45 – Chelsea just demoted Farnsworth Bentley's relevance even lower!!!!
8:46 – Best Male Video Goes to Eminem for "Not Afraid"
8:55 – Chelsea handler with this damn autotune is too much. I really want to vote for Broken Bells…
8:56 – Is Jared Leto high? Stoned? A bit of both?
8: 57 – So that's the name of that song… Dog Days Are Gone. <puts on list to download>
9:01 – Oh, Ciara meets N.E.R.D is over?
9:05 – GLEE CAST!!!!!!!! YES!!!!!!!! Jane Lynch is channelling Sue Sylvester everywhere…
9:06 – Costume Change #2 for Lady Gaga who just won Best Pop Video for "Bad Romance"!!!!!!!!
9:08 – Taylor Swift controversy begins now!
9:10 – Never thought I would say this, but I wouldn't mind owning this song from Taylor Swift. Wow…
9:12 – I have to rehear that song, because I think she was forgiving Kanye for last year. I could be wrong…
9:22 – Swiss Beatz and Mary J. Blige on stage with Drake. They so better deliver…
9:23 – Bethenny Frankel just tweeted: "Don't know who drake is,but he sounds like a knockoff of other artists. @maryjblige could make cookie a hit." So hilarious on so many levels…
9:24 – What was that? A Hairflipping Contest between Rihanna and Katy Perry? It looked intense…
9:30 – I'm sorry if this jacuzzi on the stage mess doesn't scream Jersey Shore overkill, I don't know what will…
9:34 – Best Hip Hop Video Award Goes To – Eminem for "Not Afraid"
9:35 – Wow, How many eyes rolled with pregnant gag? Be honest. How many?
9:42 – B.O.B., Bruno Mars, and Hayley Williams performing now. More music to add to my list to download. I have seriously been having the iPod on repeat lately. But while they are singing, I'm more wondering what the hell is going to happen when Kanye gets on stage? What do you guys think? And as for Taylor Swift's song… Please give me your thoughts?
9:45 – Love the segue way from rap to rock… What the hell is this?!!?!? Who is she? Please inform me!!!
9:50 – Who's Mr. Cock Swole on the Stage Here?
9:51 – New Artist Award goes to Justin Bieber. Wow. Damn, the poor kid didn't know how to get on stage. SMH…
9:53 – YES!!!! Linkin Park and their LONG overdue comeback!!!!!
9:55 – Beautiful light show, great song, bad ass performance.
9:58 – DAMN!!!! Cher still rocking stilettos and fishnets stockings!!!! WOWWWWW!!!
10:00 – WOOOWOWOWOWOOWOWOWOO!!!!!!! CHER?!?!?!?!? OMG!!!!
10:03- Lady Gaga Wins Best Video Of The Year For "Bad Romance" but she's rocking a meat outfit. Seriously. A MEAT OUTFIT!!!!! Made out of MEAT!!!!!
10:05 – Aziz Ansari is going to make things worse… Naw, just kidding.
10:06 Kanye West is about to perform. Hold on to your hats.
10:08 I'm loving the new Kanye West song. Seriously. "Runaway" can't get to my iPod soon enough.
10:10 – Seems like there is a mixed crowd out there about Kanye. My two cents are that he never left in my eyes, just sat back and waited for the hoopla to die down. Can't wait for the new album to drop.
Well folks thank you for joining me in tonight's VMAs ceremonies. Were they up to par? Did your favorite artist win? Which was more offending? Taylor Swift's song? Cher's outfit? Lady Gaga's outfit? Or the show itself? Let us know!