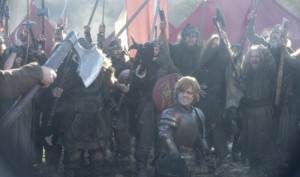 While Harry Potter and the Deathly Hallows – Part 2 was busy running away with the movie side of the 2011 Scream Awards, two shows were busy battling it out for supremacy in TV land.
HBO's two-headed monster of Game of Thrones and True Blood combined for six Scream Award wins, tying with three each and leading the way for TV-related wins. Thrones, which is set to air its second season in April 2012, walked away with one of the night's highest honors (Best TV Show), while picking up hardware for Emmy winner Peter Dinklage (Best Supporting Actor) and Daenerys Targaryen herself, Emilia Clarke (Breakthrough Performance – Female). True Blood nabbed Best Ensemble, while finding two of its supporting cast rewarded in Alexander Skarsgard (Best Horror Actor) and Saturn Award winner Joe Manganiello (Breakthrough Performance – Male).
It wasn't all medieval politics and southern fried vamps, however, as proven by the other TV winners this year. Matt Smith won Best Science Fiction Actor for his role as the eleventh doctor on Doctor Who and The Walking Dead, premiering its second season Sunday night, was awarded for its comic book. Former That 70s Show star (and current voice of Meg Griffin on Family Guy) Mila Kunis was the night's other TV winner for her buzzed about performance in Black Swan (Best Supporting Actress), a role that nearly won her an Oscar nomination in February.
Listed below are all the TV-related winners at this year's Scream Awards. To check out what movies picked up the other awards, check out Spike's website.
The 2011 Scream Awards air in their entirety on Tuesday, October 18th at 9:00 on Spike.
What do you think about the Scream Award winners? Did anybody get robbed? Which win made you the happiest?
Best TV Show
Doctor Who
Fringe
Game of Thrones ***WINNER***
True Blood
The Walking Dead
Best Science Fiction Actor
Daniel Craig, Cowboys & Aliens
Chris Evans, Captain America: The First Avenger
Harrison Ford, Cowboys & Aliens
Jake Gyllenhaal, Source Code
Matt Smith, Doctor Who ***WINNER***
Best Horror Actor
Michael C. Hall, Dexter
Andrew Lincoln, The Walking Dead
Stephen Moyer, True Blood
Alexander Skarsgard, True Blood ***WINNER***
Patrick Wilson, Insidious
Best Supporting Actress
Jaimie Alexander, Thor
Laurie Holden, The Walking Dead
Mila Kunis, Black Swan ***WINNER***
Helen Mirren, Red
Ellen Wong, Scott Pilgrim vs. the World
Best Supporting Actor
Kieran Culkin, Scott Pilgrim vs. the World
Peter Dinklage, Game of Thrones ***WINNER***
Rupert Grint, Harry Potter and the Deathly Hallows
Tommy Lee Jones, Captain America: The First Avenger
Alan Rickman, Harry Potter and the Deathly Hallows
Breakout Performance – Female
Jaimie Alexander, Thor
Hayley Atwell, Captain America: The First Avenger
Emilia Clarke, Game of Thrones ***WINNER***
Elle Fanning, Super 8
Zoe Kravitz, X-Men: First Class
Breakout Performance – Male
Jon Bernthal, The Walking Dead
Michael Fassbender, X-Men: First Class
Chris Hemsworth, Thor
Tom Hiddleston, Thor
Joe Manganiello, True Blood ***WINNER***

Best Ensemble
Game of Thrones
Harry Potter and the Deathly Hallows – Part 2
Red
True Blood ***WINNER***
X-Men: First Class
Best Comic Book or Graphic Novel
American Vampire
Chew
Daytripper
Locke & Key
The Walking Dead ***WINNER***