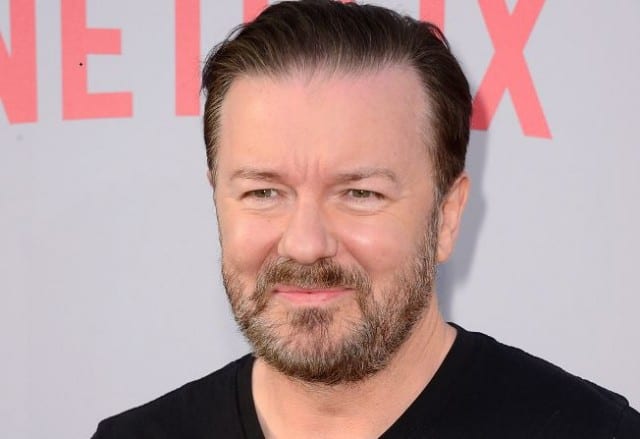 Have you missed Ricky Gervais' comedic presence at the Golden Globes? Well, if you have, you're in luck, because the actor/writer is returning to host this year's upcoming ceremony.
This will be Gervais' first time emceeing the Golden Globes since he finished his back-to-back-to-back run as host in 2012. Tina Fey and Amy Poehler co-hosted the ceremony for three consecutive years following that, with the female duo taking the stage in 2013, 2014, and 2015.
"We're excited to have Ricky Gervais back to host the most enjoyable awards show of the season in his own inimitable way," said NBC Entertainment Chairman Robert Greenblatt. "Disarming and surprising, Ricky is ready to honor — and send up — the best work of the year in film and television. Fasten your seats belts."
"Ricky Gervais left us with a lasting impression and we are thrilled to have him back in our show as we honor the best in film and television," said Lorenzo Soria, President of the Hollywood Foreign Press Association. "His off-the-cuff wit and quirky charm will surely have the room and audiences around the world at the edge of their seats."
The news was first revealed late on Monday afternoon by the Golden Globes' official Twitter account:
Psssst! #HesBack#GoldenGlobespic.twitter.com/KqBIsVMkQt

— Golden Globe Awards (@goldenglobes) October 26, 2015
And here's how Gervais responded to the announcement on Twitter:
Can't wait to host The Golden Globes again. My only guarantee is that not everyone will enjoy it as much as me. pic.twitter.com/oqOO8KnyLV

— Ricky Gervais (@rickygervais) October 27, 2015
The 73rd annual Golden Globe Awards will air Sunday, Jan. 10, at 8 p.m. on NBC.
Are you happy Ricky Gervais is returning as host for the 2016 Golden Globes, or would you rather have someone new gotten the gig? Comment below and let us know.
Photo by Frazer Harrison/Getty Images