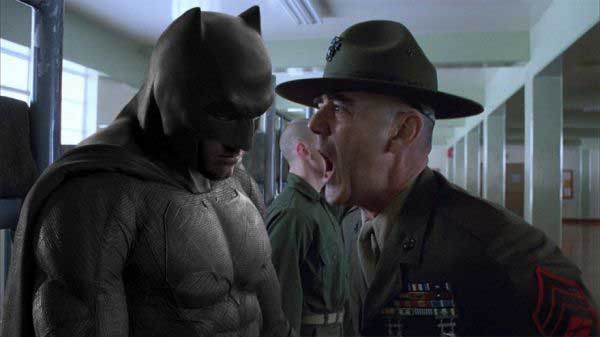 The advances in video and photo manipulation since the invention of Photoshop have been nothing less than extraordinary.   What were once days of doctoring images that could never pass for anything real, has become a society where we can create mashups, new scenes, and pretty much anything we want with existing footage and photos.   It's lead to some pretty impressive works.  In fact it's even lead to some people getting jobs because of their home editing skills.
Even with all this technology though, sometimes a really simple Photoshop alteration is all you need to take something iconic and make it something worth laughing at.  What you're about to see below are 21 iconic shots from famous movie scenes that have been doctored in a way that should give you a chuckle.
I for one had to laugh at the photo you see above.  I mean come on.  Ben Affleck's Batman getting yelled at in Full Metal Jacket?  It's perfect and just fits beautifully.  If you like that pictuer then you'll enjoy the entire collection.