Whenever a character says the magic words, "It will all be good, you'll see," you know, as a viewer, that it will definitely not be anything even remotely close to good.
The Bates' have about five seconds of a normal life. Norma is making breakfast for her sons. Norman is going to school and Dylan is taking out the trash. After Deputy Shelby had died, the Sheriff had come over to find out what happened. Surprisingly, Norma told the entire "rape-in-a-kitchen-stabbed-30-times" story and was not arrested. Instead, the Sheriff decided to make up his own story and cover it up.
However, like expected, it changes. Things begin to turn dark for this family, as usual. Norma gets her first guest to the motel when an ominous man tries to unlock the door to his usual room, number nine. Norma, explaining that they are under new management, agrees to let him stay even though they are not open. But she neglects to take any of his information before handing over the keys. She doesn't think it's a big deal, but Dylan, who has already seen the man from earlier, knows that he needs to know who is staying in that room. Oddly, the man does not want to give up his driver's license, but eventually does, and pays for a week in cash. Later, when this man comes out of his room to talk to Norma, he sets up his previous schedule: the first week of every other month he will rent out every room of the motel. Well, if Keith Summers had a deal with this man — and Keith Summers was part of the infamous sex-slave ring— then this man, of course, has nothing to do with it. This is Norma's blinding logic.
Meanwhile, Norman thinks he is in love with Bradley. The girl has not responded to his text messages and has not been in school since they had slept together. But, her father has just died so this is understandable. However, when she returns to school, she still avoids him. When her mother goes out of town, Bradley gets her house to herself and Norman takes this opportunity to stop by. Claiming how he knows exactly how they both feel about each other, Bradley proceeds to tell him, in a veiled "it's-not-you-it's-me" speech, that they will not work out. Norman stomps away from her door, broken-hearted, and walks creepily down a wooded, desolate street. He begins to mimic his mother, repeating exactly what she had said about Bradley in the world's most creepiest sex talk given by a parent. He gets the glazed, but determined, look in his eyes — the making of a crazed man.
However, Bradley shuts off the boyfriend-from-hell look in him when she hugs him. Norman is turning out just like his mother. They both crave physical love and the need to feel wanted. And when they don't get it, they snap. They behave so irrationally that it would probably make someone take their dead mother, put her in the basement, and pretend that she is real just so that feeling is still there.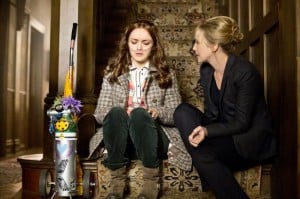 Other events in tonight's episode included Emma finding a mother figure in Norma. After getting rejected by Norman, Norma decides to take the crying girl on an errand run and then to lunch. Norma asks Emma about Norman and his changing attitude. Emma hints at a girl in his life and eventually blurts out that it's Bradley. Together, they go to spy on her at her yoga class. Almost jealous of her son, Norma begins to picture a more intense sex scene than we had seen between Norman and Bradley. She becomes angry and leaves immediately, saying that Bradley is simply a high school girl. Later, off camera, Emma is offered a job to work at the motel. When Norman hears about this, he thinks it is just his mother's way of setting him up with someone other than the popular blonde girl from school.
There are many plot lines floating around this series. Everything was thrown into the first couple episodes, arising the question of where else could they possibly go with the story. Bates Motel does have powerful show runners so it will be entertaining, but will it be understandable? Will viewers begin to lose interest in this development? Or will it trickle down as the series progresses? Even in tonight's episode there were more plot lines bringing in more characters and more possibilities. But while it is confusing, it does strengthen the characters. Tonight, the sexualized love between Norma and Norman was brought up again. We learned that it is not only Norman thinking of sex. It is also his mother. In addition, Norma gained a substitute daughter in Emma. The poor girl is looking around for someone to care for her and she found that in one of television's most unstable adults. Finally, Norma saw her eldest son as someone who loves her again, but was hit with disappointment when he says that he is still moving out.
Bates Motel only has a few episodes left in the season and we can probably expect each one to intensify as we reach the end.