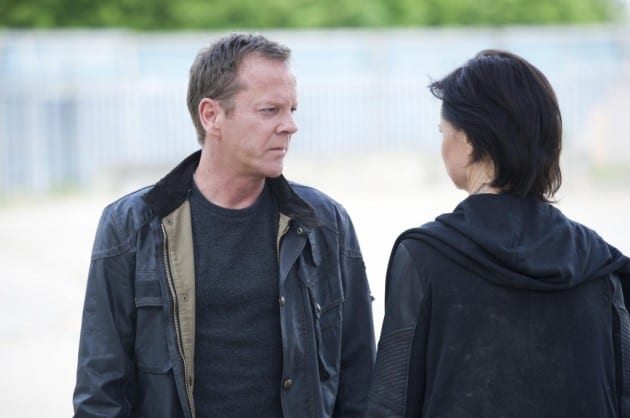 Is Jack Bauer finally headed to the big screen?
According to TVLine, talks of a 24 movie, which had been abandoned for a while, have now started to heat up again in recent weeks. Reportedly, Image Entertainment is leading the charge with the new film idea, and while it has not yet been brought to 20th Century Fox, Imagine Chairman Brian Grazer is apparently very excited about and committed to the project.
Although no one from 20th Century Fox has commented on the speculation, the idea of a 24 movie does seem more possible in light of the success of Fox's  limited series, 24: Live Another Day. Also, series star Kiefer Sutherland said just last year that a 24 movie is "an ongoing situation. There's always an opportunity to do that."
The question here is whether a film could possibly disrupt Fox's plans to bring back 24 for another miniseries run sometime soon. Fans of the show will remember that Live Another Day ended with Jack handing himself into the Russians to save Chloe, after the love of his life, Audrey, had been killed. Both critics and fans have proposed that another 12-episode limited season could focus on Chloe and new 24 favorite Kate Morgan (Chuck's Yvonne Strahvoski) rescuing Jack from Russia, but Fox has not fully committed to a new season of the infamous action series, only promising that the network would "talk to the creators."
"I loved this year's season of 24," Fox Networks Group Chairman CEO Peter Rice said back in July. "I've always been a fan. We haven't had a specific conversation about it coming back yet, but I'm sure we will in the future. It's a wonderful franchise. When you look at the show itself, it has many more stories to tell. I think we need to sit down and talk to the creators."
Would your rather see a new TV season of 24, like Live Another Day, or do you think it's time that Jack Bauer to finally got a chance to be a movie star? Or, like me, are you greedy and want both?
Photo via Fox