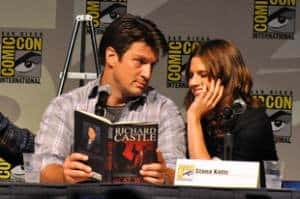 Castle fans, the news we have all been waiting for has been confirmed. The cast of our favorite show will be returning to San Diego Comic-Con on July 24th. According to actor Jon Huertas, the panel will be held at 11:45 on the last day of the Con. I admit I am so incredibly psyched for this panel and I will be there to bring some great scoop about season 4.
The actor will also be hosting another panel during the Con:
"Yo we're doing our San Diego Comic-Con Panel July 24th at 11:45 – Make your plans! Also I'm moderating the comicon Military Panel July 22nd!", he announced on Twitter a few minutes ago.
Last year, the Castle panel was quite a hit with the fans and it is no surprise that they are returning this year. Also, let's not forget that Disney and Marvel will lauch a comic book in September based on one of Richard Castle's character, Derrick Storm.
There is still no confirmation if the entire cast will be present, but check back here for updates.
Are you guys as excited as I am?