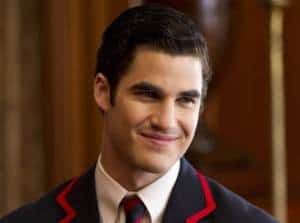 In the November 30 episode of Glee we learn that Dalton has preppy uniforms, democratic student committees and Darren Criss! Forget Kurt, I want to go there.
FOX has released three sneak peeks for tonight's episode, all featuring Kurt learning about what life is like at Dalton Academy. You can view them below.
Then go take a listen at six of the songs that will be featured on tonight's new episode of Glee.
THE COMPETITION HEATS UP ON AN ALL-NEW 'GLEE'ON TUESDAY, NOVEMBER 30, ON FOX

John Stamos Guest-Stars

New Directions heads to the big Sectionals competition to go head-to-head against the Warblers and the Hipsters. While trouble brews between some of the young couples, Emma and Carl (guest star Stamos) grow closer in the all-new 'Special Education'episode of GLEE airing Tuesday, Nov. 30 (8:00-9:01 PM ET/PT) on FOX. (GLE-209) (TV-14 D, L, S)

Guest Cast: Harry Shum as Mike Chang; Chord Overstreet as Sam Evans; Max Adler as Karofsky; Darren Criss as Blaine; James Earl as Azimio; John Stamos as Dr. Carl
clarissa @ tvovermind.com
twitter.com/clarissa373
twitter.com/tvovermind