Nancy Pelosi debuted on last night's 30 Rock, the season finale, and how appropriate is it that she uses the word "Effigy" in this clip?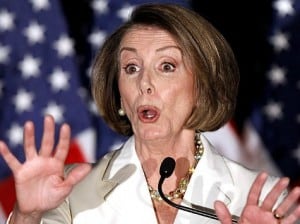 Jack Donaghy's disgustingly huge new salary has leaked to the public and the Occupy Wall Street Movement–which still has relevance in 30 Rock world apparently–is having a fit about it, with their political ally Nancy Pelosi stepping out to share her caustic opinion.
Pelosi definitely let her hair down for this appearance, being referred to with "Just look at this jackass" by one of Jac's Kabletown henchmen, and spewing this laugh worthy bit of caricatured dialogue:  "Jack Donaghy is an economic war criminal," Pelosi says with glazed eye seriousness. "If the Democratic Party controlled Congress I would see to it that he was punished in the worst way possible, by having to come down here.  An listen to us."
Political pundits will note that Pelosi did score one political victory with the appearance.  Republicans avoid calling their rivals the "Democratic" party, opting for "Democrat".  After all we wouldn't want the Republicans being thought of as not supporting Democracy, but supporting the Democrats all in one.