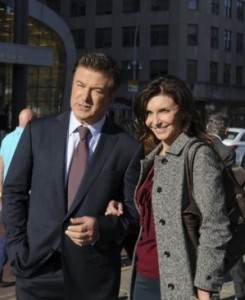 30 Rock season 6 makes a declaration of love with the sixth and seventh episodes of season 6 with "Hey Baby, What's Wrong?," where Liz and Criss must purchase a table for Valentine's day and Jack visits with his mother-in-law Charlotte (Mary Steenburgen) . Tonight 30 Rock experiments with an hour-long format for it's Valentine's day outing, and however sweet carries a few mixed results.
I'm very interested in what's been going on with 30 Rock's season ordering this year, as the show was first pushed back into mid-season to accommodate Tina Fey's pregnancy, and has since been rather out of sorts. First , the second and third episodes of the season made more or less a two-part episode, but separated by a week as 30 Rock has been airing multiple episodes on Thursday nights, whether catching up to other comedies or filling holes in the schedule. This week's 'Hey Baby, What's Wrong'wasn't a two-parter in the traditional sense, but more akin to an hour-long episode that doesn't break through the midpoint, something I'm not sure the show has attempted before. 'Hey Baby, What's Wrong'isn't a failed experiment by any means, but it can be difficult for typically half-hour shows to break out of formats to which they're so accustomed.
So of course, Valentine's day draws near, and there wasn't any way 30 Rock could leave that topic alone even as Liz Lemon so vehemently eschews the concept of the holiday. And with Valentine's day we must all confront our lack of significant others and reflect on loves past. If you're happily taken, go fly a kite! But in any case, most couples know all-too-well the dangers of furniture shopping in relationships, and the endless void of a trip to IKEA, with its presentation so elaborately designed as a long voyage rather than a simple grab & run. Mutual shopping has a way of bringing differences to the forefront, and the returning Criss (James Marsden) certainly doesn't seem the type to stick around Liz Lemon's life for long.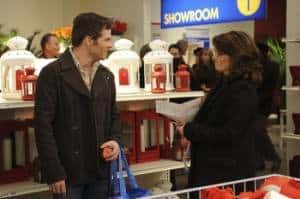 Of course, 30 Rock has covered Valentine's Day multiple times in the last six years (and in case you forgot, here's a montage of the show's better years!), so there's a rather predictable direction a tale of Liz Lemon worried she'll lose her boyfriend could take, and fight it as they may Liz and Criss of course make a slow boil into argument. It doesn't quite end the way you'd expect, with both Liz and Criss being savvy enough to know that a small fight over furniture isn't enough to destroy a solid relationship, so I liked that 30 Rock could at least plausibly extend its conclusions without feeling repetitive. A skilled comedic actor though he may be, I'm still not entirely buying James Marsden as a good fit for Liz or 30 Rock, but the results are agreeable enough.
Faring somewhat less well this week is Jack, who in the continued absence of Avery finds himself mentally and sexually frustrated, even turning to his mother-in-law Charlotte Jessup (Mary Steenburgen) to vent some frustrations as they try to return Avery from North Korea. You could tell from practically their first scene that the episode was pitching toward Jack bedding his own mother-in-law, but I remained largely uncertain 30 Rock could ever justify such an insane twist. Clearly Elizabeth Banks would never come aboard 30 Rock as a full-time cast member, so I wondered if the show had written itself into a corner by marrying and tying down Jack with a child. Hooking up with Charlotte would have likely been too icky to justify, so I imagine the writers want to have their cake and eat it too by giving Jack new female presences to bounce off of. It's not like 30 Rock seems to be approaching any resolution with Avery, so it seems likely we'll see Charlotte again at least once more.
And speaking of new female presences, Kristen Schaal returns as equally doe-eyed page Hazel, though her storyline of trying to fit in at 30 Rock doesn't necessarily veer into the territory you'd think either. Being a Valentine's Day episode, I presumed she might share some chemistry with Kenneth, before her disgust at their behavior evolved into Single-White-Female style adoration. Be it adorable enthusiasm or homicidal rage, Kristen Schaal stills nails the role, and I'll be sad to see her go in a few episodes.
Likely the least entertaining subplots this week would have to go to the Pete / Jenna pairing and Lutz's search for love aided by Tracy Jordan and Frank. It's not that the stories don't make for a few laughs now and again (particularly in how Lutz manages to fail every one of his mentors'hilariously pathetic set-ups), but they don't feel particularly connected to any overarching theme. It might feel different were the stories to be set up over the usual half-hour, but that extra time stretches the jokes a little thin.
I love 30 Rock, I do, so perhaps I'm just Liz Lemon bitter as we approach Valentine's day, and thoughts turn to the one that got away. By that, I of course mean Community.
And Another Thing…
Probably would have known this if I'd seen Enchanted, but that James Marsden has a nice singing voice.
I've said it before, and I'll say it again. Good gravy that Mary Steenburgen has aged well.
With Pete and Jenna so desperate to get out of the 'late-night ghetto'of TGS, I wonder if some career movements could be a setup for a 30 Rock endgame of sorts…
Caught you, 30 Rock on your unrealistic Manhattan geography! During Liz's cell phone conversation with Jack, The Molly Wee Pub (30th and 8th) is visible in the background, and she's still on the phone with him when she reaches her apartment on the Upper West Side (160 Riverside)! Liz Lemon would never walk that far!
What did YOU think?