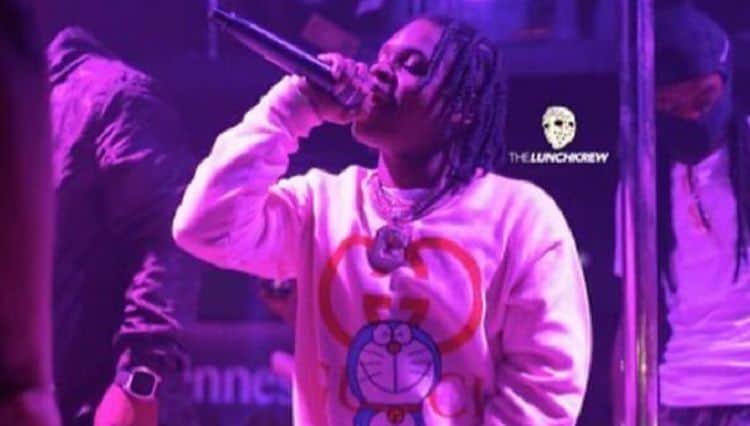 May rappers – or so it seems – has a stage name that is nothing like their real name. There's probably a long history of thoughtful information that tells us why so many rappers take on a different name than the one they were born with, but that's beside the point. The point is that rappers like 42 Dugg choose their names, and they run with them as they pursue their rap careers. He might not be a household name yet, but he's working on changing that perception. Here's what you need to know about the rapper.
1. He's a 90s Kid
Growing up in the 90s was the best. It meant the most fun fashion, the most fun childhood memories, and the best last time that any kid got to grow up without the internet dictating every single life choice. It was a good time, and it was one that we all loved. 42 Dugg was born on November 25, 1994, in Detroit.
2. His Real Name is Not 42 Dugg
We mentioned stage names earlier, but this is one that isn't really close to his given name. Some artists choose a stage name similar to their own name, but this one isn't quite there. 42 Dugg was born Dion Marquise Hayes.
3. He Went to Christian School
Growing up in Detroit, Michigan in the 90s was probably quite interesting. It was made even more interesting by the fact that his parents chose not to send Dugg to public schools. They option, instead, for a Christian school called the Legacy Christian Academy from which he graduated in 2017.
4. He Has Legal Issues
Dugg's legal issues started and – so far – ended in 2020. He was arrested in March on gun charges. While we are not sure what the charges stemmed from, specifically, the arrested was federal gun charges. He was taken to jail where he was held for 7 days until his release.
5. He Ran From Police
If he thought his legal troubles ended after that seven-day stint in jail, he was sadly mistaken. Dugg fled police in June 2020 at a traffic stop. He was the driver of an SUV he rented, and he chose to run a stop sign and then flee from the police that tried to pull him over. It took two months for police to find out who rented the car from the rental car agency, track him down, arrest him and charge him with a third-degree felony. He was able to leave jail after paying a $20k bond.
6. He Loves Sneakers
42 Dugg is a man who likes sneakers. He has a fascination with them, and he has a huge collection. It might be a guy thing, though, and not something that's specific to him. He likes to spend his money on Nikes and other sneakers he will wear and keep in his own collection.
7. He Loves Cars
In addition to his sneaker collection, he's on his way to collecting a serious car collection. He currently has a Lamborghini, a G-Wagon, a Maybach, a Cadillac, a Bentley, and a Dodge. He likes to drive what's feeling good for him in the moment, and that's just fine.
8. He Doesn't Feel Famous
Despite the fact that he is currently making it quite big in the music business, he doesn't feel super famous at the moment. He feels he might get there at some point, but he's not feeling it at the moment. He also says he's not even sure he knows how to be famous. He considers himself a regular guy, and that's probably a good way to go through life.
9. He is Not Forty-Two Dugg
In case you were pronouncing it Forty-Two Dugg, you would be incorrect. He goes by Four Two Dugg, even though it does look like 42. Go ahead and let everyone know now so that they don't sound silly when they mispronounce it as the rapper becomes more and more famous.
10. He Looks for Meaning
Many rap songs come across as a jumble of lyrics on occasion, but not 42 Dugg's. He is adamant that he likes to place a significant amount of meaning in each of his songs, and he's good with that. He likes to be sure everything has something of himself, something that's important to him, and something that means something to him in each song. He's not just writing to write. He's writing to express himself in the capacity he feels good about in the moment.