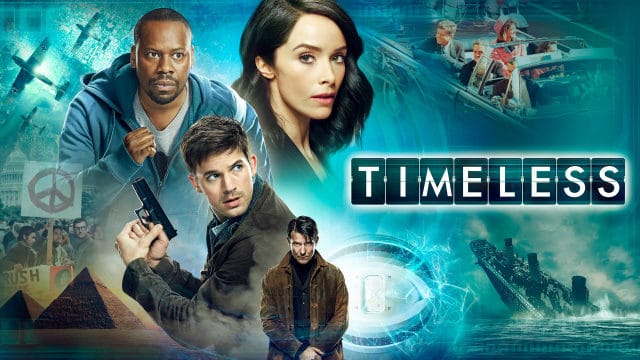 On the surface, the idea that NBC should once again save Timeless is ludicrous.  After all, the ratings are worse than last season.  Deadline and other entertainment business news sources had reported that NBC and Sony Pictures Television (SPT) could save Timeless via a package with The Blacklist. However, as noted by The Hollywood Reporter (THR), The Blacklist is a go – but there's still no word on Timeless.  
Believe it or not, there are some good arguments as to why NBC should save Timeless.  Some points are altruistic, but others are business-oriented.  What's one thing many of these reasons to save Timeless have in common?  They have a historical connection to another NBC show.  That show is the original Star Trek.
The 5 Reasons NBC Should Save Timeless 
1. Why Save 
Timeless?
 Killing it Now is Basically Throwing Money Away.
I know, you would think canceling Timeless would be the move to save money, right?  Variety reported Timeless as costing 4.5 million an episode. That's an expensive show, especially for network television.

Here's the thing.  Timeless ended with a doozy of a cliffhanger.  With only 24 episodes and no wrapped up ending, this isn't something that will get a decent syndication deal or be added to a streaming platform catalog.  However, with streaming services, a viewer is more interested in a complete story than the number of seasons. Most people don't want to binge a show that they know didn't wrap the story up.
As the saying goes, in for a penny, in for a pound. This isn't suggesting that Timeless should go for 100 episodes – which is the classic syndication number.  Even if it's just a 10-episode 2019 summer show, Timeless needs at least one more season so that writers can end it well.
Why should NBC care about this?  Sony and NBC's parent company Universal both have a stake in Timeless.  The chance to recoup what they've put into it is in their best interest.  Ending now makes that less likely.  Sure, this way of thinking is a bit of a steal from the CW's entire network structure, but it works.
What Are the Odds of Recoupment?
Nothing is a given about a show getting picked up for syndication or streaming.  However, Sci-fi shows usually do well the second time around – especially when it's got a niche fanbase.  Just look at how the Fox show Fringe has done. Fox played the long game with a good sci-fi series and it worked out. It's gone to the Science channel, Amazon Prime, Netflix,  and now it's on Verizon's Go90.  (I'm sure Fox wishes they had more episodes of Firefly.)  
Of course, NBC has had its own experience with this. Star Trek is the original, saved by the fans show.  It's ratings the first time around were not stellar either.  It was saved after the second season by a massive fan campaign.  Fifty years later…
Today, the fans that brought Timeless back from the dead last season display a similar intensity to those original Trekies. Timeless also has some historical congruence with Star Trek.  (I'll get more into that during the "altruistic" reasons to renew it.) Overall though, there's a good chance that giving the show a proper ending is a public relations gift that will keep on giving long after its original run.
2. Save Timeless, Again? What About the Ratings?
Given the ratings that have Timeless in this predicament, why should these companies think anyone wants to see the show?  Well, aside from the history of Star Trek, Fringe was a live-ratings nightmare as well.  The show's overnight ratings were bad, but it made up some ground in DVR viewing.
Back in 2012, a 60 percent jump added to the ratings was good.  Timeless is hitting numbers much higher than that.  It's had sometimes as much as a 100 percent increase in the 18-49 demo for L+7. In viewership, the increase has been in the low eighties. (It goes up to a 1.1 – 1.2). Timeless is also consistently ahead of Blindspot in its DVR increase numbers, at times it's enough to have them switch in the actual rankings.  
One reason for the DVR jumps could be the show's timeslot. There are so many good shows of all stripes – deep dramas, puzzling procedurals, cute comedies, and even some rollicking reality competitions. Who has time to watch them all when they first air or stream?.   I doubt even full-time TV reviewers can do it, nevermind people whose main jobs don't entail watching tons of television
Another issue with that time slot is that after a tough day at the office some shows are easier than others. That's a big reason why half-hour comedies have historically done so well.  Timeless is fun sci-fi, but it's also wrestling with deeper issues and giving a weekly history lesson.  People may like smart TV, but maybe not always on a school night.
Streaming Creates a Whole Other Issue With Ratings
 According to Pew Research, there's a whole other audience when it comes to streaming, and it's a desirable one.
About six-in-ten of those ages 18 to 29 (61%) say the primary way they watch television now is with streaming services on the internet, compared with 31% who say they mostly watch via a cable or satellite subscription.
In other words,  there's an audience that is far more likely watching Timeless streaming on Hulu than on NBC. If they haven't seen it yet, giving the show the time to wrap it up makes it more likely that they will.  How does that help NBC? While Disney has the controlling stake in Hulu, NBCUniversal does have a piece of that pie.