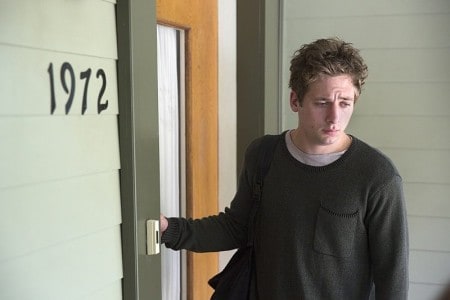 If you thought losing the Gallagher house was monumental in last Sunday's episode "Going Once…Going Twice…," you won't believe what is about to happen to Lip in this week's episode. It's Earth shattering. Here's that and more to look forward to in the upcoming Shameless episode, "Refugees." First of all, someone from Lip's past gets revenge on him this week, and it's not pretty. Lip's tenacious South Side attitude doesn't pay off when the enemy is social media. The fallout will be painful in the rest of the season, for sure.
Next up is V and Kev who have several new house guests, and it's not who you might expect. At first, V is very hesitant to the idea, especially because they already have two children, but she warms up to the idea when one of the guests is more than they seem.
Frank finally meets his match…and maybe even a new lover. I have never seen someone go toe-to-toe with him like this! They even stumped him a few times, should be a fun new relationship!
Debbie's role in the Wexler household takes a turn she was not expecting. Be Aggressive, or maybe not, Debs.  The Gallagher's are officially homeless, and Fiona worries that the family has already fallen apart. While it is a substantially less interesting plot than the former points, it still tugs at your emotions throughout the episode.
Tune into Showtime's Shameless this Sunday at 9 o'clock EST and find out just who gets revenge on Lip, and if the Gallagher's sleep on the street after their eviction.
[Photo credit: Patrick Wymore & Monty Brinton/Showtime]