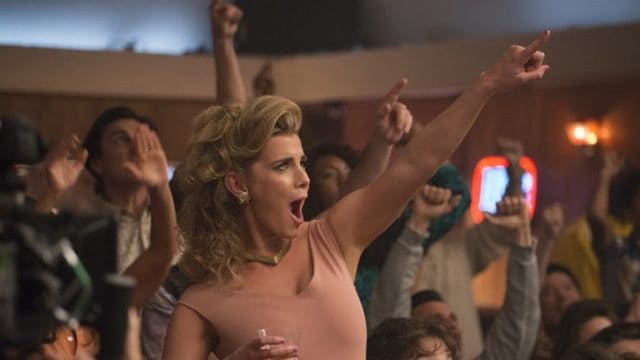 There is no doubt that Netflix is committed to making its presence felt in the arena of television programming, and with the emergence of live television streaming and other technically advanced mediums through which programming can be presented to the public, the network is definitely having an impact on the entertainment world. The television series, GLOW is one of Netflix's projects. The series is inspired by the female wrestling league in the 1980s that carried the same name. One of the key characters in this series is Debbie "Liberty Belle" Eagan, played by Betty Gilpin. Gilpin not only brings the character to life, but she adds a special kind of spark to the show.
In case you are not aware of who Betty Gilpin is here are a few facts that should familiarize you with the star.
1. She is Not New to The Game
While Betty Gilpin is only 30-years-old, she is far from a rookie. She has paid her acting dues on stage and behind the camera. Betty has starred in off-Broadway productions that include I Am Gonna Pray for You So Hard, Heartless and We Live here. She has also taken on television, starring as Dr. Carrie Roman on the Showtime original series, Nurse Jackie. She has also made appearances on Medium, Law & Order: SVU, Elementary, and Fringe. This Latest move on Netflix is simply adding to her impressive resume.
2. She Has an Acting Pedigree
There are many avenues into the world of entertainment, and although there is a long list of actors who are first generation entertainer, there is another fraternity, or in this case sorority in which the entertainer descend from a line of entertainers. It just so happens that Betty's father is an actor who has a long list of credits to his name including multiple appearances on Law & Order: SVU, a recurring role on Kate & Allie, and films like the Notorious Betty Page and Something Wild.
3. She Is Based in New York
Although a large portion of film and television actors and entertainers are based in the Los Angeles area, New York is also a hub for many entertainers, including Betty, who currently resides in Prospect Heights. She jokes about watching the movie Ghost and hearing Whoopi Goldberg's character say that she lives in a rough part of town – Prospect Heights! Times have definitely changed things.
4. She Was Inspired by the Theater
Having her father as a role model in the entertainment industry has definitely had an impact on the drive and professionalism that Betty has used to push her through the ranks of stage and film entertainment. However, she admits that it was trips to the theater with her parents when she was a little girl that captivated her and made her want to become an actress, and she has parlayed the dream into a gorgeous reality.
5. She is Currently Filming a New Movie
This new film entitled Isn't It Romantic is set to be released in early 2019. It is a romantic comedy that is being directed by Todd Strauss-Schulson. The movie is starring Liam Hemsworth, Priyanka Chopra, Rebel Wilson, and of course, Betty Gilpin. The Warner Brothers film is definitely not short on eye candy for either gender of the species. That alone should garner some ticket sales.