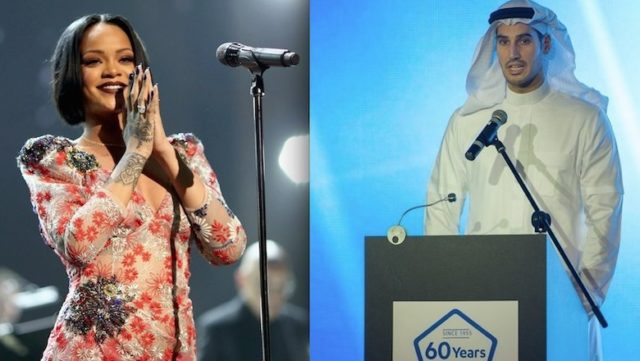 While Rihanna has been extremely vocal about the idea that she does not need a man to be happy, she has never implied that she did not want or would not accept one if the fit was right. Rihanna's long hiatus from serious relationships has led many to wonder if she would ever step back up to the plate, but it seems that fans can stop wondering. The word is that she is currently dating Toyota heir, Hassan Jameel, a businessman from Saudi Arabia. With the buzz building around the news of the new flaming relationship, there are a lot of people who don't know much about Jameel.
To get everybody caught up to speed on this new flaming relationship of Rihanna's, here are five things you most likely don't know about Hassan Jameel.
1. Hassan is a Billionaire
When Rihanna decided to step back into the game, she definitely did not half-step. Her new love interest currently holds a billionaire status, with a reported net worth of $1.5 billion. In addition to owning the nation's largest Toyota distributorship, the family is said to have numerous business interests that span the globe. It is not clear what role Hassan actually plays in the running of the everyday affairs of the business, but he definitely wheels the power it creates.
2. The Relationship May Have Created Drama Between Rihanna and Naomi Campbell
When it comes to the world of celebrities, it is virtually impossible to avoid drama, and it seems that the relationship between Rihanna and Hassan has caused a riff between her and Naomi Campbell. As it turns out, Hassan was dating Naomi this time last year. Wow, how quickly things change. When asked about the riff, Naomi said everything is fine, but there are reports that confirm that the two ladies have unfollowed each other on multiple social media accounts.
3. Mr. Hassan is Well-Connected
When it comes to wealth, it is more than just about the accumulation of financial assets. It is also about the connections and relationships that made and built over time. There are some rumors that Hassan is very well connected around the globe. He is reported to even have connections to the British royal family — having a personal relationship with Prince Andrew. How deep this relationship runs is uncertain, but it does make for interest conversation.
4. This Relationship is Legit
Often times flings between celebrities are erroneously reported as being serious relationships only to fizzle within days. Well, this relationship seems to be the real deal, at least according to the singer, who has gone on records with friends as being in love with Hassan. Those who are close to her reveal that Rihanna is absolutely smitten by Jameel, and things don't look to be slowing down anytime soon.
5. He Has Already Won Over Rihanna's Fans
One thing about Rihanna's fans is that they are extremely loyal, and many of them have been secretly hoping that the singer would finally find love. Based on the fans respond, they are completely on board with this relationship. Shortly after the pictures of Rihanna smooching with Hassan in Spain surfaced, her fans took to Twitter with the Rihanna has a man hashtag. Well, hopefully, this is the love that the young diva has been waiting for.