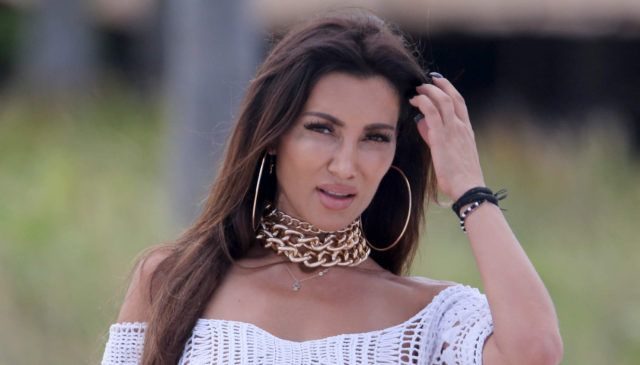 Reality shows are all the rave in Hollywood, and the appeal of the up close and personal shows does seem to be losing any momentum. One show that has reality drama show fans up and on edge is WAGS, a show that highlights the lives of wives and girlfriends of high profile sports persons. The show's first season did so well that the E! television network gave the green light for the second season. One of the cast members that fans have become enamored with is Metisha Shaefer, a German-born model, writer and aspiring actress. Shaefer is a part of the cast for WAGS Miami and she has the personality and the drive to definitely stake her claim as one of the top stars on the show.
While you may be familiar with the show itself and you are probably at least visually aware of Metisha, there is still a lot that you are not aware of. We decided to share five facts about the aspiring actress that should peak your interest even more.
1. She Was Single During the Original Series
According to a spokesperson at E!, Metisha was actually single during the shooting of the first season, which actually speaks to her drive and appeal. This is a show about the wives and girlfriends of high profile sports personalities and here is Metisha being single and still landing a spot as a cast member. Well, according to Metisha, she is in the beginning stage of a new relationship, but she is not yet ready to reveal the name of the individual, which means viewers will probably have to wait until it airs during season two.
2. She Admits that She Can Be a Little Sensitive
During season one, there was some serious tension and drama between Metisha and co-cast member, Claudia Sampedro that basically boiled down to the difference between being single and being in a committed relationship. One of the knocks by critics after this event was that it made Metisha come across as being hypersensitive, and she admits that she can be sensitive, but that she does not believe that the drama that erupted between her and Claudia was entirely her fault.
3. She Achieved a Great Deal of Success as a Show Host in Germany
Metisha is a native of Cologne, Germany, where she was born and raised, and she realized early in life that she had an intense passion for the world of creative arts, so she set out to make her mark, and that she did. Sources reveal that she experienced significant success hosting a number of television shows in her hometown. Fortunately for us, she decided to take her career to a new level and departed Germany for the beaches of Miami.
4. She Knows How to Leverage Her Beauty
There is one thing about Metisha, and that is that she is a realist. She is keenly aware of the fact that her pulchritude opens a lot of doors for her and she has become acutely astute at being able to leverage her beauty in a strategic manner that continues to produce efficacious results as far as advancing her career is concerned.
5. She Transcends Nationality and Race
In a world that tends to find itself constantly being polarized along the lines of race and ethnicity, Metisha has proven that it is possible to transcend these barriers with the proper focus and the willingness to take chances. She has been accepted by the Hispanic community, appearing on the popular Spanish channel, Telemundo, more than once and it seems that the Cuban population of Miami has embraced her as well.