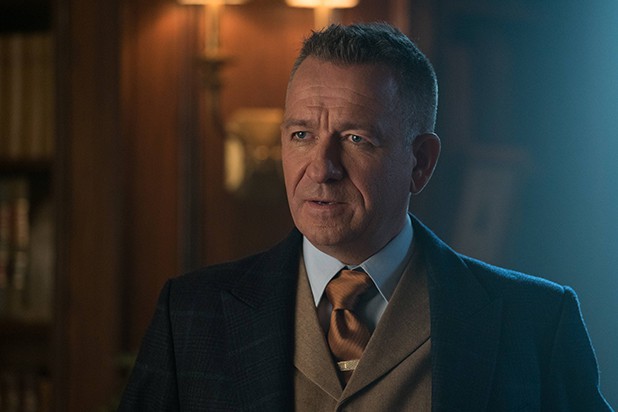 Long before you came to know him for the roles he plays in American films and television series like Gotham, Sean Pertwee has been wooing audiences around the globe with his ability to get into character and deliver unbelievable performances. By any standard, he is one of the most established actors on the planet, and he has the resume and pedigree to back that up. As familiar as some of you think you are with Sean, we are certain that there is so much more that you don't know about him. So we decided to provide you with five facts that you probably didn't know about this exceptional actor.
1. He Was Born Into a Theatrical Dynasty
Sean is the son of famed English actor, John Pertwee, which is a part of a long line of well-trained and influential actors and actresses. This means that Sean has entertainment and acting coursing through his veins. As you will see moving forward, Sean didn't allow the fact that he is considered royalty in the world of theater convince him to take the short cut. He put in the work to develop his craft just as his father had before him. Everything about his gifts and skills is authentic.
2. He Underwent Formal Training at Bristol Old Vic Theatre School
While I am sure that Sean spent countless hours observing his father practice his craft and received numerous tutorials along the way, he did not bypass the formal training that can be so influential in the development of certain nuances that tend to set entertainer apart. He attended Bristol Old Vic Theatre School, where he worked to develop the foundation that would lead to what has been nothing short of a remarkable career.
3. He Got His Start With the Royal Shakespeare Company
Talking about getting your career off in high gear – Sean started his illustrious acting career with the Royal Shakespeare Company where he is most noted for starring in Titus Andronicus, a play that was directed by Deborah Warner. This would not serve as a crowning moment or his pinnacle – only the beginning of what would be a long list of exceptional performances that have been nothing south of amazing.
4. He Contributes to the Industry in Business
Although you can find many entertainers who are completely satisfied with being a performer in the area of expertise, there are those who desire to become immersed in the business. Sean has proven to be of the latter persuasion – having formed Natural Nylon, a production company that was formed along with some other notable names that include Ewan McGregor, Jude Law, Jonny Lee Miller and others. The company was formed in 1997.
5. He is A Voice Over Artist
Many actors and actresses have gone on record to declare that doing voice over work is not as easy as some may seem, but it seems that Sean Pertwee has mastered the art of voice over – making him one of the most consistently working voice over actors in the business. He does everything from voice over ads to voice over for video games. He has truly mastered the art of delivery a character at multiple levels and it has led to his immeasurable success.