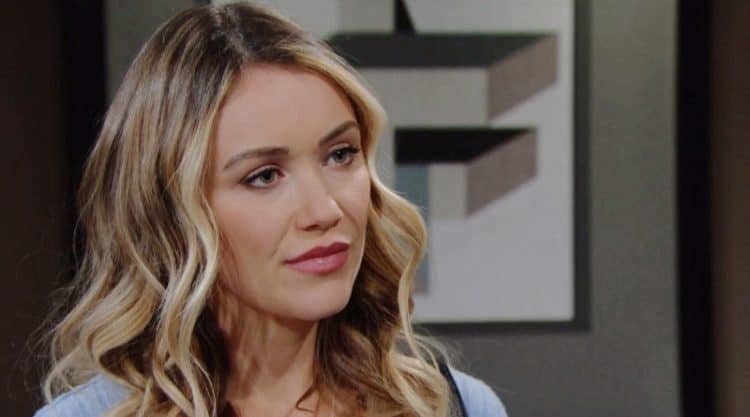 The Bold and the Beautiful fans have gotten to know so much about Flo in the last few weeks. She's here, she's back in town, she's the illegitimate daughter of Storm Logan, and she's got a mother who is loving her daughter's new life. She's also the young woman who has done all she can in the past few weeks to keep the biggest secret of the year. She is not the biological mother of the little girl Steffy adopted. She is, in fact, the woman who lied to everyone and pretended this baby was hers, even though the baby is actually the baby of Hope and Liam. They think their daughter is dead, and she's a knowing and willing accomplice in the entire thing. Flo is with Wyatt – rekindling a romance they once had in high school – and we are not happy about it. But, we do want to know a bit more about Katrina Bowden, the girl who plays Flo.
She's a Jersey Girl
She was born and raised in New Jersey in 1988. She spent her childhood there, went to school there, and got her education there. She was a child who went to a school that is no longer open. She's a graduate of the Saint Thomas More School in Midland Park in elementary and middle school. The also went to the Immaculate Heart Academy in another town in Jersey, too. She attended her religious schools and had a catholic upbringing, which is what her parents wanted from her in her life. She can't send her future kids there, but she's also not in Jersey anymore, now is she?
She's a Prime Time Star
There was a time when she was more than a daytime television star. She was a primetime star. She had a long-term role on the hit show "30 Rock," which helped her make her career go a lot further. She was cast in the role back in 2006, and she starred on the show until 2013 when the show ended for good. She spent the last 7 years of the show's time on the air starring as a main character. She was, if you don't remember, the lovely but kind of clueless assistant, Cerie. She played the role of a sexy woman who didn't have much of a brain, and she did it well. Of course, we know her to be so much more than that in the real world with her extensive education and her clear mind for doing what she wants to do to make her life successful.
She's Famous for Something Else, Too
There was a time when she was all over the place doing the things she wanted to do, and one of those things included being voted the Sexiest Woman Alive by Esquire Magazine. There are worse things to be, and that is quite the honor in a world filled with such beautiful people. It was back in 2011, when she was barely 23-ish. She was already starring on television shows and doing what she was doing in her life, and that is something she is proud of.
She's Married
She's not a single woman, so don't get your hopes up. The 30-year-old actress has been married for 6 years now. She's married to a former band member. His name is Ben Jorgensen, and they were married in 2013. He was part of the bad "Armor for Sleep" and now he is not. We don't know what that entailed, but we do know that he is not part of the band at this point in his life.
She's A Music Video Star
Not too many people are even aware that music videos still exist, but they do. They are back on television, they are good to go, and they are being watched more on the internet than anywhere else. She's a young woman who got to live out every young woman's dream of being in a rock video, too. She was the woman who starred in Panic! At the Disco's Miss Jackson" video back not too long ago, and she was fantastic. If you haven't seen it, now is a good time to watch it.