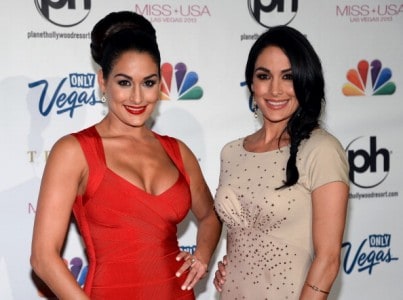 Total Divas is all about the world of professional wrestling and what it means to you. Perhaps you are into it and perhaps you are not, but you cannot ignore the fact that this show features women who are hardcore about their business, their brand, and their bodies. And none of the women featured are nearly as interesting as the Bella twins, Brie Bella and Nikki Bella. They are twin sisters with impressive careers behind them and in front of them, and they are rocking the industry. We have everything you ever wanted to know about them — that you don't already know, that is.
Their Names are Different
They were actually born Brianna Monique Garcia-Colace and Stephanie Nicole Garcia-Colace. They go by their nicknames and the Bella portion is just their stage name — and they did not use their stage names when they went to LA together to become actresses.
Their Personalities are Totally Different
They might be twins, but that doesn't mean they are the same person. With totally different personalities, it seems that these two have more to think about and talk about and differ over than you might like to give them credit for. They are exceptionally talented and have similar interests, but they don't love all the same things.
They're Identical
Having my own set of twins, it amazes me how many people do not know the difference between identical and fraternal twins. My girl/boy twins are fraternal. Two eggs that just so happened to become fertilized at the same time. Identical twins like the Bella twins come from one egg that splits. They sometimes share things that might cause some complications during pregnancy, and it's often a bit more high risk.
They Are 16 Minutes Apart
We don't know which is the older twin, but we know that these girls are 16 minutes apart as of birth. One wanted to make her entrance a little bit earlier than her sister, and that's probably something that they have a lot of fun with in their lives.
They're Sweet
You don't to see a lot of feminine sweetness on this particular show, but these two are not always hardcore and totally insane. They're actually ladies and that's how they behave in real life.
Ready for an all new Total Divas tonight?
When your girls don't trust your man… can you?https://t.co/WPs1Iwgu2w

– Total Divas (@TotalDivas) February 9, 2016
Photo Credit — Getty Images